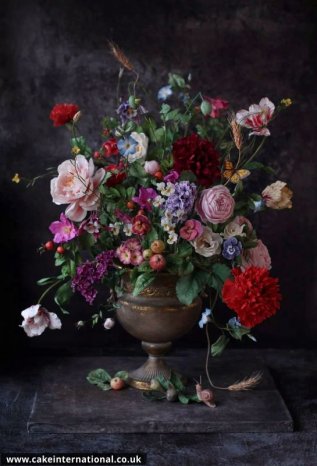 Olesia Holumbivska
from Ukraine
Best in Show 2020 – Judges' Vote
Sponsored by Search Press
Thank you to absolutely everyone who entered.
We were overwhelmed by the number, and impossibly high standard of entries. Well done to everyone who took part in the world's most exciting sugarcraft and cake decorating competition.
HUGE congratulations to everyone who won an award – you can find the full list of winners below.
We hope to see you all at the next Cake International!
Select a letter to view category results
HC: Highly Commended C: Commended
Class A – Floral Display
| Name | Country | Result | Placement |
| --- | --- | --- | --- |
| Olesia Holumbivska | Ukraine | HC | 1ST |
| Nataliia Lupych | Ukraine | HC | |
| Crisal Dimalanta | Philippines | HC | |
| Chun Fai Chan | Hong Kong | HC | |
| Iris Rezoagli | USA | HC | |
| Gabriela Kope | France | HC | |
| Tenna Skibstrup | Denmark | HC | |
| Margaret Wong | Hong Kong | HC | |
| Miriam Pearson | Ireland | HC | |
| Lude Dong | USA | HC | |
| Nanako Yoshida | Japan | HC | |
| May Ling Chen | Malaysia | HC | |
| Yong Jia | China | HC | |
| Mabel Stella Abraham | Australia | HC | |
| Mod Lajosne | Hungary | C | |
| Juan Antonio Nunez Diaz | Canada | C | |
| Lubna Gafoor | India | C | |
| Coralie Featherstone | UK | C | |
| ZhaoTao Guo | China | C | |
| Marc Kevin Philippines | Philippines | C | |
| Emi Koulev | Canada | C | |
| Hend Taha | Egypt | C | |
Class AA – Wafer Paper Flowers
| Name | Country | Result | Placement |
| --- | --- | --- | --- |
| QiuYi Zhang | China | HC | 1ST |
| Kris Wirata | Thailand | HC | |
| Yong Jia | China | HC | |
| Shirley Yanga | Singapore | HC | |
| Wan Yin Yong | Malaysia | HC | |
| Anand Kumar Anjaneyulu | Malaysia | C | |
| Zuzana Bezakova | Slovakia | C | |
| Shen-Hua Lan | Taiwan | C | |
| Claudia Elena Crisan | Italy | C | |
| Chun Ying Han | China | C | |
| Jiao Zhang | China | C | |
| Meng Sun | China | C | |
Class B – Floral Inspirations
| Name | Country | Result | Placement |
| --- | --- | --- | --- |
| Inessa Abakumova | Russia | HC | 1ST |
| Olga Khan | Canada | HC | |
| Veranika Cmetanko | Belarus | HC | |
| Jelena Sergejeva | Ireland | HC | |
| Chanda Rozario | India | HC | |
| Nesrin Gurses Dinc | Turkey | HC | |
| Mabel Stella Abraham | Australia | HC | |
| Fa Jun Li | China | HC | |
| Ebru Eskalan | Turkey | HC | |
| Zlatina Lewis | UK | HC | |
| Christine Van Wettering | USA | HC | |
| Yeshwanth Kumar Umasankar | India | HC | |
| Sweta Dalmia | India | HC | |
| Anand Kumar Anjaneyulu | Malaysia | C | |
| Judy Torres Bernal | Colombia | C | |
| Tetyana Olyiyevska | Canada | C | |
| Mariano Sanchez Trigueros | Spain | C | |
| Olena Ilienko | Ukraine | C | |
| Elena Zakhlestova | Russia | C | |
| Anna Lukacovicova | Slovakia | C | |
| Julissa Iturria | Peru | C | |
| MARIA DA FARIAS | Brazil | C | |
| Inga Komari | UK | C | |
| Zuzana Bezakova | Slovakia | C | |
| Wendy Henriquez | Dominican Republic | C | |
| Saritha Sheregar | India | C | |
| ZhaoTao Guo | China | C | |
| Chanudi Ekanayake | UK | C | |
| ZhaoTao Guo | China | C | |
| Anna Kalinichenko | Russia | C | |
| Olga Prokhorenkova | Russia | C | |
| Tracy Gregory | UK | C | |
| Geetha Sriskantha | UK | C | |
| Chia-Hui Lin | Taiwan | C | |
| Maria Farias | Brazil | C | |
| Suman Dalmia | India | C | |
| Gwendolynn Ruby Buffong | UK | C | |
Class C – Decorative Cookies
| Name | Country | Result | Placement |
| --- | --- | --- | --- |
| Silviya Jankowski | UK | HC | 1ST |
| Michelle Becker | UK | HC | |
| Lu Yan | China | HC | |
| Hiromi Shikiji | Japan | HC | |
| Poppy Chang | Taiwan | HC | |
| Irina Belokrenitskay | Russia | HC | |
| MIN HUA WANG | Taiwan | HC | |
| Shirahama Rika | Japan | HC | |
| Megumi Ohmori | Japan | HC | |
| Hong Kiu Leung | Hong Kong | HC | |
| Diana Maier | Spain | HC | |
| Margarita Eliseeva | Russia | HC | |
| Tsutsumi Ayaka | Japan | HC | |
| Iveta Rapsikova | Slovakia | HC | |
| Viktoria Andreeva | Russia | HC | |
| Nicole Chang | Taiwan | HC | |
| Sofiya Komova | Russia | C | |
| Iryna Finashyna | Greece | C | |
| Chie Tsuji | Japan | C | |
| Tsutsumi Ayaka | Japan | C | |
| Alice Baghdasaryan | Russia | C | |
| Eriko Miyawaki | Japan | C | |
| Vandana Krishna | India | C | |
| Mika Burks | USA | C | |
| Tamura Nozomi | Japan | C | |
| Ichikawa Asami | Japan | C | |
| Tan Wan Peng, Germaine | Singapore | C | |
| HuiYan Huo | China | C | |
| Tsz Ki Lau | Hong Kong | C | |
| Varsha George | UK | C | |
Class D – 3D Cookies
| Name | Country | Result | Placement |
| --- | --- | --- | --- |
| Nataliya Ismailova | Egypt | HC | 1ST |
| Li Shu-Ju | Taiwan | HC | |
| Ekaterina Dobrydneva | Russia | HC | |
| Iris Novakova | Russia | HC | |
| Silviya Jankowski | UK | HC | |
| Alena Belova | Russia | HC | |
| Yulia Bunnell | USA | C | |
| Norie Miyazaki | Japan | C | |
| Shirahama Rika | Japan | C | |
| Yao Yao Lei | China | C | |
| Shirahama Rika | Japan | C | |
| Irina Dobrovolskaya | Russia | C | |
| Chihiro Nakamura | Japan | C | |
| Olga Zhukova | Russia | C | |
Class E – Decorated Plaque
| Name | Country | Result | Placement |
| --- | --- | --- | --- |
| Angela Penta | Italy | HC | 1ST |
| Irina Belokrenitskay | Russia | HC | |
| Tan Wan Peng Germaine | Singapore | HC | |
| Michelle Becker | UK | HC | |
| Gabriella Markusne Illyes | Hungary | HC | |
| Alevtina Vergunova | Russia | HC | |
| Radoslava Kirilova | UK | HC | |
| Yulia Bunnell | USA | C | |
| Zhao Min Wong | Taiwan | C | |
| TING CHIH HUANG | Taiwan | C | |
| Yuiko Charmillot | Switzerland | C | |
| Diana Zheleva | Spain | C | |
Class F – Cupcakes
| Name | Country | Result | Placement |
| --- | --- | --- | --- |
| Ana Remígio | Portugal | HC | 1ST |
| Elaine Minett | UK | HC | |
| Carolina Ribeiro de Barros Leite | UK | HC | |
| Kasakura Satsuki | Japan | HC | |
| Julie Hodson-Walker | UK | HC | |
| Natalia Ruchkevich | Russia | HC | |
| Ka Lam Mak | USA | HC | |
| Harumi Nakano | Japan | HC | |
| Jo Dainton | UK | C | |
| Eriko Miyawaki | Japan | C | |
| Svetlana Nomokonova | Russia | C | |
| Miyazaki Norie | Japan | C | |
| Hiral Shah | India | C | |
| Lesley Seeney | UK | C | |
| Emma Nettleship | UK | C | |
| Ripsime Stepanyan | Russia | C | |
| Zihao Wang | China | C | |
| Louise Heathers | UK | C | |
| Janannie Rangawamy | UK | C | |
| Alice Baghdasaryan | Russia | C | |
| Fathima Hafsha Ilyas | Sri Lanka | C | |
Class G – Sculpted Carved
| Name | Country | Result | Placement |
| --- | --- | --- | --- |
| Naomi Carleton | UK | HC | 1ST |
| Viktoriia Zahorodnia | Ukraine | HC | |
| Dionis Iarovoi | UK | HC | |
| Elena Sorokina | Russia | HC | |
| Irina Ivanova | Russia | C | |
| Lesley Reynolds | UK | C | |
| Nadezhda Rogatinskaya | Kazakhstan | C | |
| Charlotte Trussler | UK | C | |
| Ambrozine Tiburcio | UK | C | |
| Ekaterina Serebrennikova | Russia | C | |
| Anthony Camacho | UK | C | |
| Kelly Lintin | UK | C | |
| Monika Salkauskas | Canada | C | |
| Viktoriya Alekseeva | Russia | C | |
| Christine Pattle | UK | C | |
| Valeriya Vozchikova | Russia | C | |
Class H – Decorative Exhibit
| Name | Country | Result | Placement |
| --- | --- | --- | --- |
| Elena Sorokina | Russia | HC | 1ST |
| Inna Sapegina | Russia | HC | |
| Maria Nerush | Russia | HC | |
| Brinda Assi | UK | HC | |
| Kharchana Ivanova | Russia | HC | |
| Olga Wagner | Russia | HC | |
| Olga Blinova | Russia | HC | |
| Tatiana Gureeva | Russia | HC | |
| Anna Tkachenko | Ukraine | HC | |
| Olga Artamonova | Russia | HC | |
| Irina Shaban | Belarus | C | |
| Elena Mazilnikova | Russia | C | |
| Tatyana Solovyova | Russia | C | |
| Viktoriia Zahorodnia | Ukraine | C | |
| Iris Rezoagli | USA | C | |
| Angela Timofejeva | UK | C | |
| Anna Shapovalova | Russia | C | |
| Victoria Chauhan | Russia | C | |
| Anastasia Zhuravleva | Russia | C | |
| Jane Ridley | UK | C | |
| Zoltánné Bolla | Hungary | C | |
| Natalya Borodina | Russia | C | |
| Alexandra Khasanova | Russia | C | |
| Xaviera Boadella | UK | C | |
| Elena Pasechnik | Ukraine | C | |
| Yuliya Lidina | Russia | C | |
| Svetlana Ponomareva | Russia | C | |
| Jessica Bidwell | UK | C | |
| Tatyana Tikhonovskaya | Russia | C | |
| Dionis Iarovoi | UK | C | |
| Ivan Karapenchev | UK | C | |
Class I – Decorative Exhibit – Figures
| Name | Country | Result | Placement |
| --- | --- | --- | --- |
| Olga Wagner | Russia | HC | 1ST |
| Romina Novellino | Italy | HC | |
| Maria Ramazanova | Russia | HC | |
| Elena Sorokina | Russia | HC | |
| Anna Shapovalova | Russia | HC | |
| Irina Dobrynina | Russia | HC | |
| Lyubov Drobysheva | Russia | HC | |
| Li Si Gong | China | HC | |
| Katerina Andriyanova | Russia | HC | |
| Tatyana Murasheva | Russia | HC | |
| Silvia De Diego | Spain | HC | |
| Tsoy Viktoria | Russia | C | |
| Li Ying Khoo | Malaysia | C | |
| Delyana Ivanova | Bulgaria | C | |
| Olga Abdulaeva | Uzbekistan | C | |
| Elena Ilyushchenko | Russia | C | |
| Churukova Alena | Russia | C | |
| Adiil Desai | India | C | |
| Iveta Rapsikova | Slovakia | C | |
| Nelly Konradi | UK | C | |
| Olga Fefotova | Kazakhstan | C | |
| Aleksandr Konovalov | Russia | C | |
| Ilona Rako | UK | C | |
| NELLY KONRADI | UK | C | |
| Stefani Kostadinova | Bulgaria | C | |
| Kiyomi Nakai | Japan | C | |
| Elena Nekrasova | Russia | C | |
| Elena Poleva | Russia | C | |
| Natalia Schmitt | Germany | C | |
| Lusine Geghamyan | Armenia | C | |
| Alexandra Boyko | Russia | C | |
Class J – Decorative Exhibit – Busts
| Name | Country | Result | Placement |
| --- | --- | --- | --- |
| Iveta Kosikova | Slovakia | HC | 1ST |
| Maria McCoid | UK | HC | |
| Olga Blinova | Russia | HC | |
| Olga Telegina | Russia | HC | |
| Goda Laivyte | UK | HC | |
| Olina Wolfs | Netherlands | C | |
| Margarita Tan | Australia | C | |
| Oksana Levchenko | Ukraine | C | |
| Margarida Guerreiro | Portugal | C | |
| Geethu Soman | India | C | |
| Tatiana Amelenko | Russia | C | |
| Cristina Alicia Calcagno | Argentina | C | |
| Angel Torres Bernal | Colombia | C | |
| Eleni Choursoulidou | Austria | C | |
| Hristina Dandarova | Bulgaria | C | |
| Victoriia Zahorodnia | Ukraine | C | |
| Gauri Kekre | India | C | |
Class K – Pushing the Bourndaries
| Name | Country | Result | Placement |
| --- | --- | --- | --- |
| Tatiana Kharchenko | Russia | HC | 1ST |
| Winny Choi | Hong Kong | C | |
Class L – Head Judges Wild Card
| Name | Country | Result | Placement |
| --- | --- | --- | --- |
| Elli Saayman | South Africa | HC | 1ST |
| Dionis Iarovoi | UK | HC | |
| Tatjana Fogelmane | Latvia | HC | |
| Ekaterina Kamariddinova | Russia | HC | |
| Xelene la Merced Orduña Gomero | Peru | HC | |
| Stephanie Would | UK | HC | |
| Sofia Fadieieva | Czech Republic | HC | |
| Silviya Jankowski | UK | HC | |
| Laura Abbey | UK | HC | |
| Kelly McWilliam | UK | HC | |
| Ana Remigio | Portugal | HC | |
| Yulia Bunnell | USA | C | |
| Juliya Shaplykova | Ukraine | C | |
| Nadire Kirkdeveli | Sweden | C | |
| Raees Soodhoo | Tobago | C | |
| Sharon Siriwardena | USA | C | |
| Rebecca Mackenzie | UK | C | |
| Rhonda Ramirez | UK | C | |
| Naina Ingleshwar | USA | C | |
| Sandra Zuncheddu | UK | C | |
Class M – Royal Iced Celebration
| Name | Country | Result | Placement |
| --- | --- | --- | --- |
| Olga Nadyshneva | Russia | HC | 1ST |
| Daisy Kwok | Hong Kong | HC | |
| Fathima Shakira | Sri Lanka | C | |
| Kate Sagawa | Japan | C | |
Class N – Single Tiered Celebration Cake
| Name | Country | Result | Placement |
| --- | --- | --- | --- |
| Elena Chiorsac | Australia | HC | 1ST |
| Angelique van Veenendaal | Netherlands | HC | |
| Marianna Khabekirova | Russia | HC | |
| Ueda Hiromi | Japan | HC | |
| Julia May | UK | HC | |
| Lubica Kocalkova | Slovakia | C | |
| Tatiana Sol Cicutti | Netherlands | C | |
| Nacho Nachev | UK | C | |
| Whitney Baker | USA | C | |
| Ka Lam Mak | USA | C | |
| Caroline Boult | UK | C | |
| Tatiana Demian | UK | C | |
| Catherine Hopps | UK | C | |
| Irina Gordeeva | Russia | C | |
| Laura Abbey | UK | C | |
| Siu Yu Joey Wun | Hong Kong | C | |
| Janet Humphreys | UK | C | |
Class O – Wedding Cake
| Name | Country | Result | Placement |
| --- | --- | --- | --- |
| Stephanie McNab | UK | HC | 1ST |
| Emma Lovegrove | UK | HC | |
| Sadie Jones | UK | HC | |
| Jude Halaseh | Jordan | HC | |
| Debbie Lock | UK | HC | |
| Komila Dhar | India | HC | |
| Anna Gałan | Poland | HC | |
| Sandra Freitas Nascimento | Brazil | C | |
| Shweta Bhargava | India | C | |
| Tracey Sole | UK | C | |
| Kelly Nattrass | UK | C | |
| Michele Lawrence | UK | C | |
| Lu Dong | USA | C | |
| Tasneem Shah | India | C | |
| Caroline Mills | UK | C | |
| Lizandra Reilova | USA | C | |
| Marianna Jozefíková | Slovakia | C | |
| Anahit Shamiryan | Russia | C | |
| Chanudi Ekanayake | UK | C | |
| Tania Jones | UK | C | |
| Tatiana Demian | UK | C | |
| Tafadzwa Mwanaka | Zimbabwe | C | |
| Clair Isaacs | South Africa | C | |
| Geetha Sriskantha | UK | C | |
| Julia Deringer | Russia | C | |
| Charlotte Standing | UK | C | |
| Swati Deroliya | India | C | |
| Ethel Madori | Zimbabwe | C | |
| Irina Dobrovolskaya | Russia | C | |
| Oxana Shamsullina | Russia | C | |
| Alevtina Vergunova | Russia | C | |
| Anna Tedesco | Italy | C | |
| Farkhanda Kaleem | Saudi Arabia | C | |
| Bruno Santos | Portugal | C | |
Class P – Colourful Wedding Cake
| Name | Country | Result | Placement |
| --- | --- | --- | --- |
| Ralitsa Kamburova | Bulgaria | HC | 1ST |
| Pooja Sareen | India | HC | |
| Jennifer Wing-Han Luk | Canada | HC | |
| Tania Jones | UK | C | |
| Caroline Mills | UK | C | |
| Zuzana Bezakova | Slovakia | C | |
| Gitika Abbott | India | C | |
| Kerry Hemms | UK | C | |
| Kate Feakins | UK | C | |
| Tatiana Demian | UK | C | |
Class Q – Beginners
| Name | Country | Result | Placement |
| --- | --- | --- | --- |
| Silvia Pawlowska | Sweden | HC | 1ST |
| Anh Thu Dam | UK | HC | |
| Stephanie Nimmo | UK | HC | |
| Kristin Clark | UK | HC | |
| Alice Baghdasaryan | Russia | C | |
| Sophie Clark | UK | C | |
| Petya Damyanova | UK | C | |
| Sakiko Yoshimoto | Japan | C | |
| Yamamoto Yui | Japan | C | |
| Sayma Haider | Bangladesh | C | |
| Chloe Farrington | UK | C | |
Class R – Hand Painted Cake
| Name | Country | Result | Placement |
| --- | --- | --- | --- |
| Ying Ju Chen | Taiwan | HC | 1ST |
| Dionis Iarovoi | UK | HC | |
| Silviya Jankowski | UK | HC | |
| Gabriela Kope | France | HC | |
| Marina Zhuravleva | Russia | HC | |
| Catherine Fisher | UK | HC | |
| Namita Baindoor | India | HC | |
| Tanya Shengarova | Bulgaria | HC | |
| Elena Plesovskikh | Russia | HC | |
| Elena Hoffmann | Germany | HC | |
| Yi-wen Liao | Taiwan | HC | |
| Nicole Chang | Taiwan | C | |
| Lesley Oneill | UK | C | |
| Natalya Kirichenko | Russia | C | |
| Inna Lane | USA | C | |
| Lubica Kocalkova | Slovakia | C | |
| Olga Chernei | Ukraine | C | |
| Deborah Russell | UK | C | |
| Nicole Chang | Taiwan | C | |
| Tatiana Babenko | Russia | C | |
| Nicole Chang | Taiwan | C | |
| Natalya Vorobeva | Russia | C | |