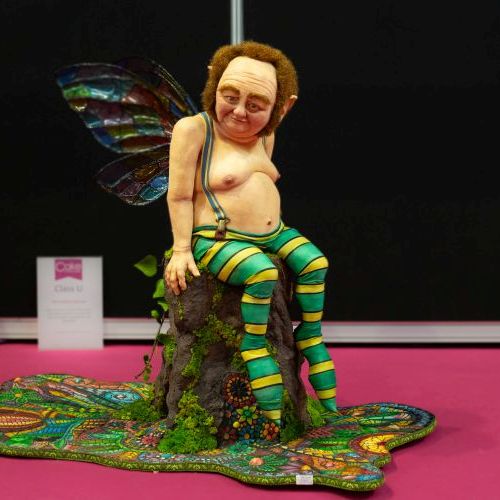 Best in Show
Kerry Hemms, Verity Malinowska & Dusica Roberts
Thank you to absolutely everyone who entered
We were overwhelmed by the number, and impossibly high standard of entries. Well done to everyone who took part in the world's most exciting sugarcraft and cake decorating competition.
HUGE congratulations to everyone who won an award – you can find the full list of winners below.
We hope to see you all at the next Cake International!
Select a letter to view category results
Please note if your name is not listed then unfortunately your entry has received no award or was not to schedule. Please await your feedback sheet from the judges which will provide further information.
Class A – Sugar Floral Display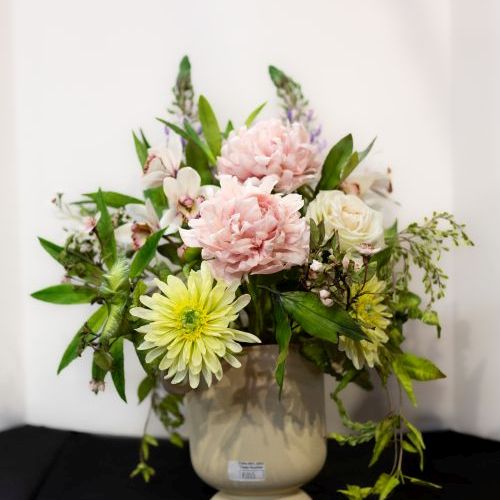 Sweta Dalmia
1st Place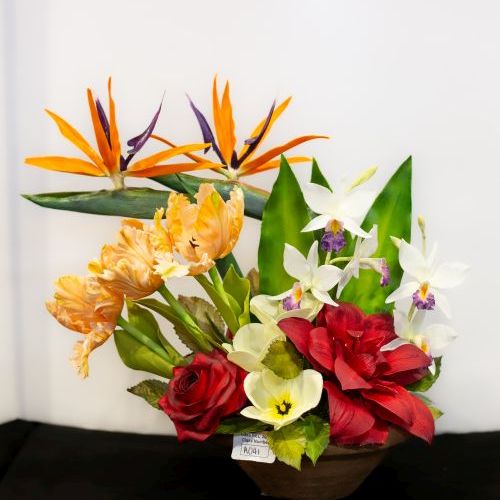 Pedro Saulo
2nd Place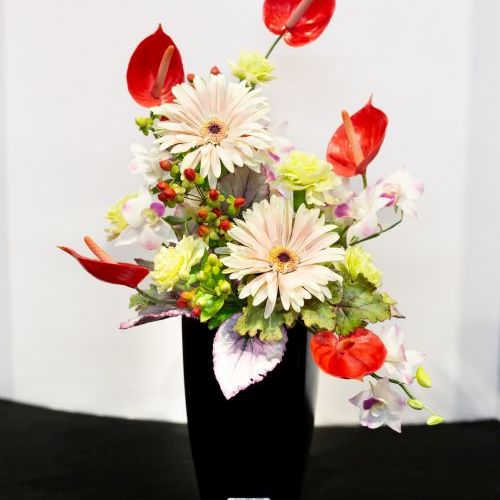 Sandy Wu
3rd Place
| Name | Surname | Country | Award | Placement |
| --- | --- | --- | --- | --- |
| Sweta | Dalmia | India | Gold | 1st |
| Pedro Saulo | Silva Moreira | Brazil | Gold | 2nd |
| Sandy | Wu | Taiwan | Gold | 3rd |
| Miriam | Pearson | Ireland | Gold | |
| CHUNG CHE | LEE | Taiwan | Silver | |
| Taeyeon | Lee | South Korea | Silver | |
| Ingrid-Maria | Sekljic | Austria | Silver | |
| Ya Ci | Wu | Taiwan | Silver | |
| Karl | Mc Nulty | Ireland | Silver | |
| Cheng | Jia | China | Silver | |
| Sinead | Reddin | Ireland | Silver | |
| Christine | Jones | United Kingdom | Silver | |
| Pedro Saulo | Silva Moreira | Brazil | Silver | |
| Svetlana | Vekova | Bulgaria | Bronze | |
| Shyamalee Judy | Dissanayake | Italy | Bronze | |
| Kyshan | Belshaw | United Kingdom | Bronze | |
| Nanako | Yoshida | United Kingdom | Bronze | |
| Maria | Carey | United Kingdom | Bronze | |
| Julie | Bathurst | United Kingdom | Bronze | |
| Zsofia | Borbasne Palotai | United Kingdom | Bronze | |
| Tina | Searsom | United Kingdom | Bronze | |
| Chia-Hui | Lin | Taiwan | Bronze | |
| CHEN | CHIA-LING | Taiwan | Merit | |
| Gail | clark | United Kingdom | Merit | |
| Colleen | Reader | United Kingdom | Merit | |
| PUI YEE,PIXIE | SIN | Hong Kong | Merit | |
| Lorna | Sansom | United Kingdom | Merit | |
| monica | pagano | Italy | Merit | |
| Annie | Bennett | United Kingdom | Merit | |
| Mary | Ryan | Ireland | Merit | |
| Sunethra | De Silva | United Kingdom | Merit | |
| Grace | Kanengoni | Zimbabwe | Merit | |
| Despoina | Vrochidou | Greece | Merit | |
Class B – Beginners Floral – 2 flowers and foliage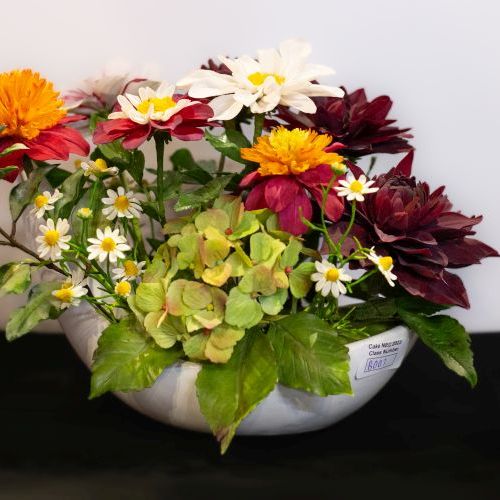 Pirvulescu Viorica
1st Place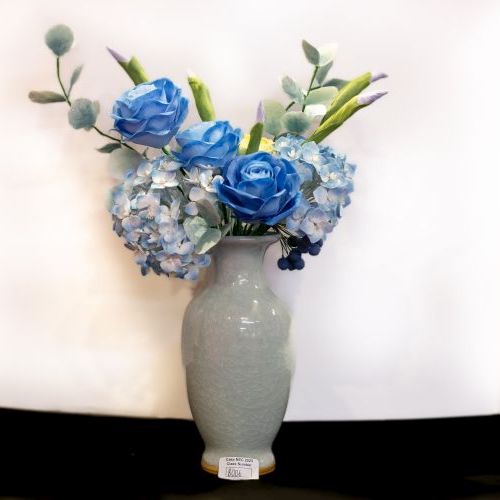 CHE-HAO LEE
2nd Place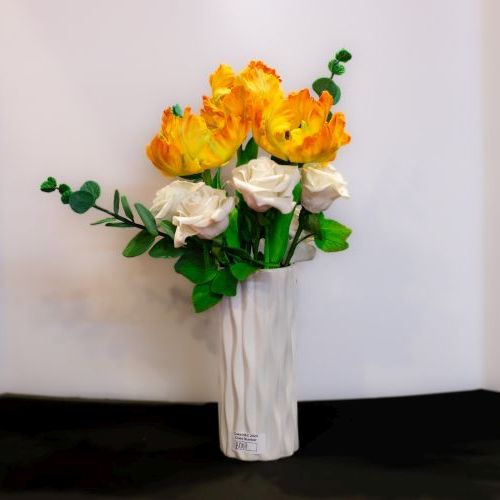 DAN LEY WU
3rd Place
| Name | Surname | Country | Award | Placement |
| --- | --- | --- | --- | --- |
| Pirvulescu | Viorica | Germany | Gold | 1st |
| CHE-HAO | LEE | Taiwan | Silver | 2nd |
| DAN LEY | WU | Taiwan | Silver | 3rd |
| Nicola | Lampitt | United Kingdom | Bronze | |
| Diane-Hélène | Sénac | France | Bronze | |
| Louise | Smith | United Kingdom | Bronze | |
| CHIA-LING | CHEN | Taiwan | Merit | |
| Sophie | Wilson | United Kingdom | Merit | |
Class C – Floral Display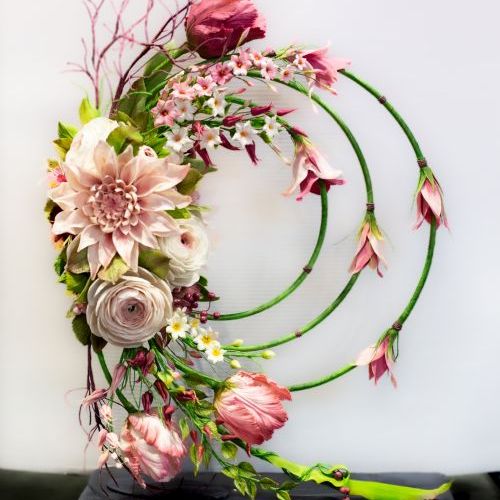 Flavia Stroscio
1st Place
Averil Sweeney
2nd Place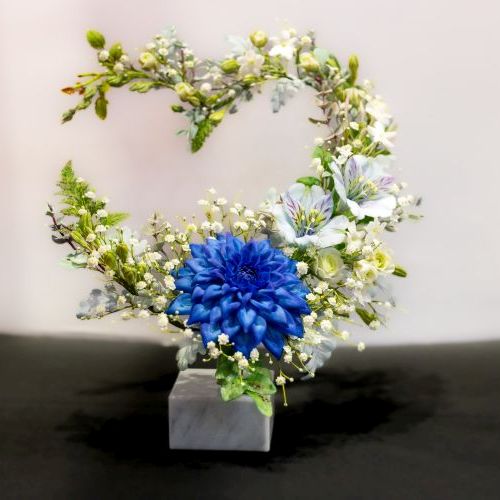 Shakila Perera
3rd Place
| Name | Surname | Country | Award | Placement |
| --- | --- | --- | --- | --- |
| Flavia | Stroscio | Italy | Gold | 1st |
| Averil | Sweeney | United Kingdom | Gold | 2nd |
| Shakila | Perera | Italy | Gold | 3rd |
| Cheng | Jia | China | Silver | |
| Sweta | Dalmia | India | Silver | |
| Frances | Johns | United Kingdom | Bronze | |
| Romaiza | Samsoodeen | United Kingdom | Bronze | |
| CHE-WEI | LEE | Taiwan | Merit | |
| Sharon | Allan | United Kingdom | Merit | |
| Maria | Carey | United Kingdom | Merit | |
Class D – Tiered Cake – Festivals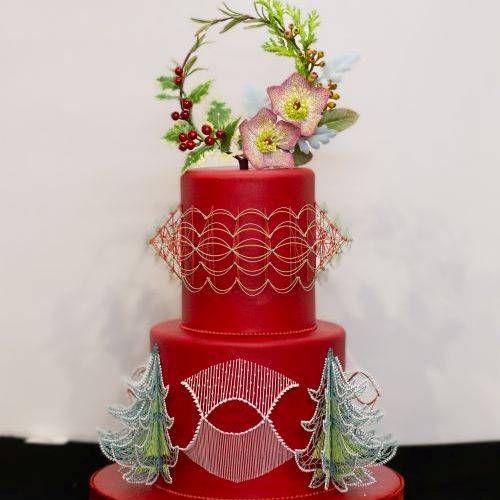 Shaki perera
1st Place
Dai Wei
2nd Place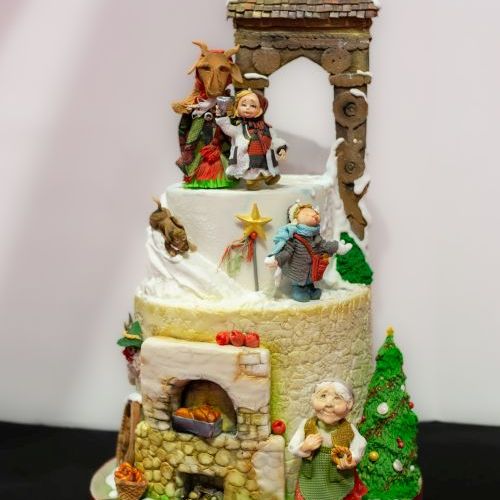 Platon Anisoara
3rd Place
| Name | Surname | Country | Award | Placement |
| --- | --- | --- | --- | --- |
| Shaki | perera | Italy | Gold | 1st |
| Dai | Wei | China | Gold | 2nd |
| Platon | Anisoara | United Kingdom | Gold | 3rd |
| Melissa | Jablonski | United Kingdom | Silver | |
| Marina | Dewald | Germany | Silver | |
| Paula | Lizcano | Belgium | Silver | |
| Kerstin | Semisch | Germany | Silver | |
| Mary | Edwards | United Kingdom | Bronze | |
| Cheryl | Tudor | United Kingdom | Bronze | |
| RASIKA | LIMJE | United Kingdom | Bronze | |
| Tracey | Sole | United Kingdom | Bronze | |
| clare | maddison | United Kingdom | Bronze | |
| Julie | Hodson-Walker | United Kingdom | Bronze | |
| Sadia | Iqbal | United Kingdom | Merit | |
| Perele's | Cakes | United Kingdom | Merit | |
| Kayleigh | Connor | United Kingdom | Merit | |
| Isabel | McKillop | Ireland | Merit | |
| Jin | Chu | United Kingdom | Merit | |
| Sarah | Campbell | United Kingdom | Merit | |
Class E – Decorated Cookies
Iva Roháčová
1st Place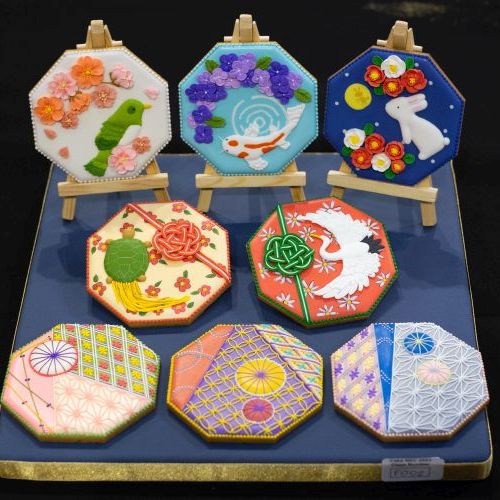 SAORI OTAKI
2nd Place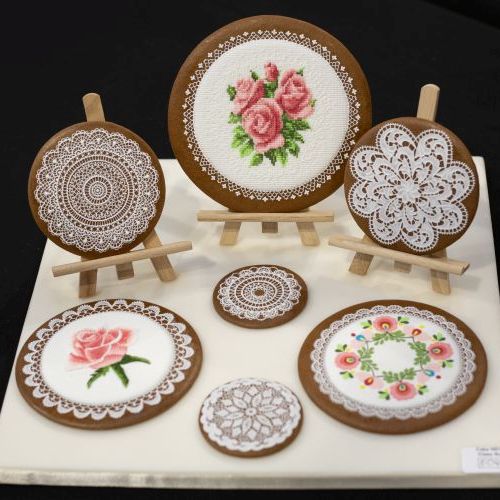 Monika Konieczny
3rd Place
| Name | Surname | Country | Award | Placement |
| --- | --- | --- | --- | --- |
| Iva | Roháčová | Czech Republic | Gold | 1st |
| SAORI | OTAKI | United States | Gold | 2nd |
| Monika | Konieczny | Poland | Gold | 3rd |
| Tien Ching | Wang | Taiwan | Silver | |
| Agnieszka | Wodynska | United Kingdom | Silver | |
| Stacy | Taljaard | United Kingdom | Silver | |
| Tan | Wan Peng Germaine | Singapore | Silver | |
| SAORI | OTAKI | United States | Silver | |
| Phan Vien Hy | Le | Vietnam | Silver | |
| TZU HAN | HSU | Taiwan | Silver | |
| Tien ching | Wang | Taiwan | Bronze | |
| YANKA | KOSTADINOVA | United Kingdom | Bronze | |
| KAM CHU | KWAN | Hong Kong | Bronze | |
| Yan Pin | Hsu | Taiwan | Merit | |
| YI-NI | KAO | Taiwan | Merit | |
| Karen | Van Put | Belgium | Merit | |
| Cheng | Zhen | China | Merit | |
| CHE-WEI | LEE | Taiwan | Merit | |
Class F – Min. 5 modelled figures or animals on a single tier cake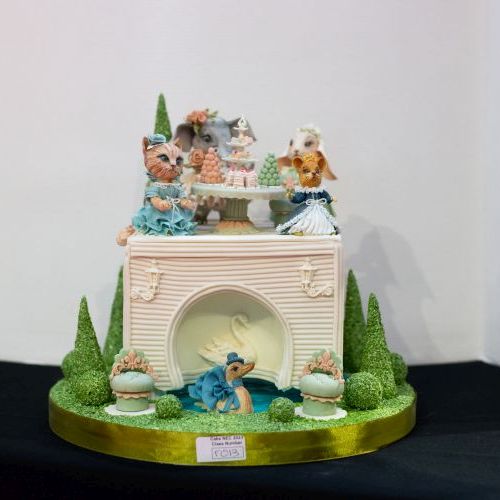 Irina Rogacevska
1st Place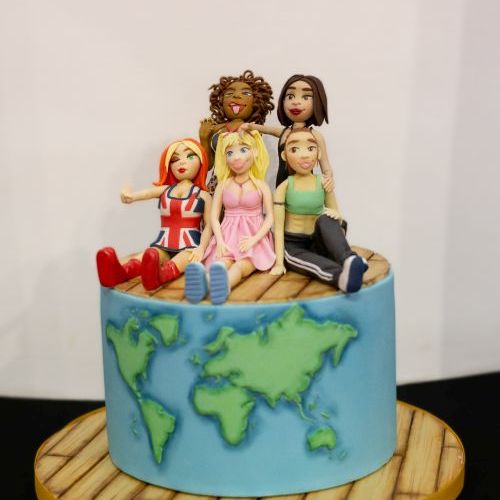 Jenna Symons
2nd Place
| Name | Surname | Country | Award | Placement |
| --- | --- | --- | --- | --- |
| Irina | Rogacevska | Ireland | Gold | 1st |
| Jenna | Symons | United Kingdom | Silver | 2nd |
| Lauren | Marland | United Kingdom | Bronze | |
| Jenny | Clement | United Kingdom | Bronze | |
| Suzanna | Socha | United Kingdom | Merit | |
| Angela | Reynolds | United Kingdom | Merit | |
| KAM CHU | KWAN | Hong Kong | Merit | |
| Chrissie | Ayris | United Kingdom | Merit | |
| Beata | Brough | United Kingdom | Merit | |
| PUI YEE , PIXIE | SIN | Hong Kong | Merit | |
| Angie | Basterfield | United Kingdom | Merit | |
Class G – Decorated Plaque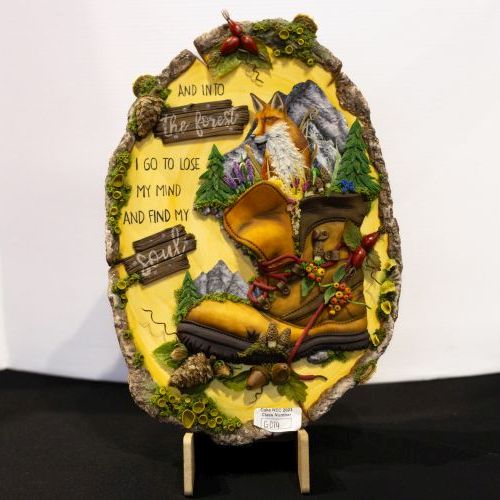 Ann- Kirstin Scheiter
1st Place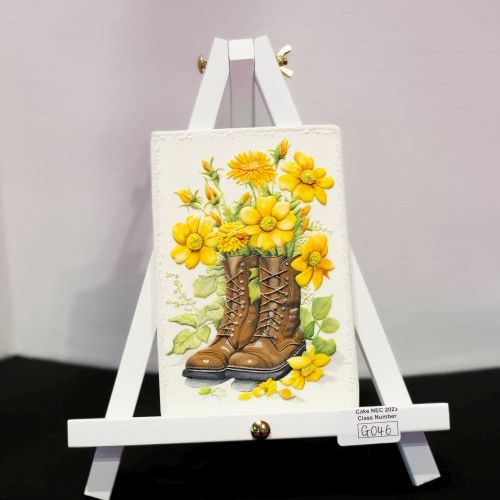 Michelle Becker
2nd Place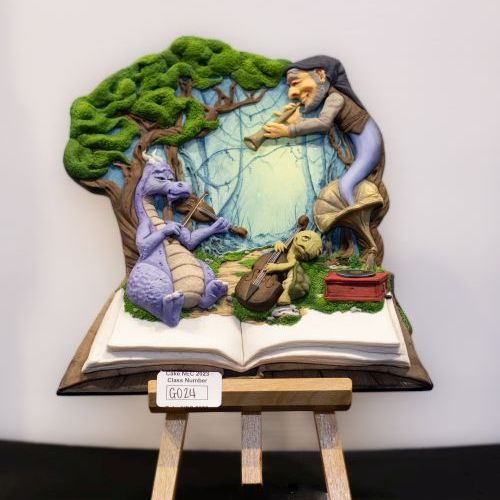 Angela Penta
3rd Place
| Name | Surname | Country | Award | Placement |
| --- | --- | --- | --- | --- |
| Ann- Kirstin | Scheiter | Germany | Gold | 1st |
| Michelle | Becker | United Kingdom | Gold | 2nd |
| Angela | Penta | Italy | Gold | 3rd |
| Galina | Garova - Mihaylova | Bulgaria | Gold | |
| Nicole | Rubin | Germany | Gold | |
| Yun- Yan | CAI | Taiwan | Gold | |
| Daca | Šobot | Croatia | Silver | |
| Jui-Ting | Huang | Taiwan | Silver | |
| Ann- Kristin | Scheiter | Germany | Silver | |
| Catia | Guida | Italy | Silver | |
| Mercedes | Guillén Requena | Spain | Silver | |
| Adina Claudia | Nastase | Gibraltar | Silver | |
| Hong Yu | Chen | Taiwan | Silver | |
| Hui-Pin | CHANG | Taiwan | Bronze | |
| Michelle Kathleen | Becker | United Kingdom | Bronze | |
| Marina | Dewald | Germany | Bronze | |
| Laura | Todari | Italy | Bronze | |
| | 鄭 | Taiwan | Bronze | |
| Christine | Jones | United Kingdom | Bronze | |
| Cristina | Arévalo | Portugal | Bronze | |
| Ethel Wing- Chung | Choi | Hong Kong | Merit | |
| Pedro Saulo | Silva Moreira | Brazil | Merit | |
| Gill | Woolgar | United Kingdom | Merit | |
| Ming Yi | HSU | Taiwan | Merit | |
Class H – Display of Cupcakes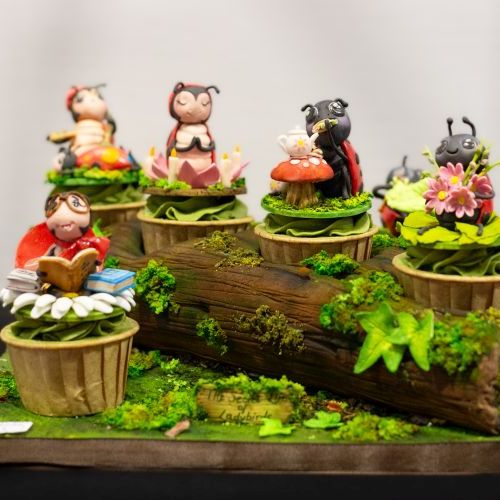 Elaine Minett
1st Place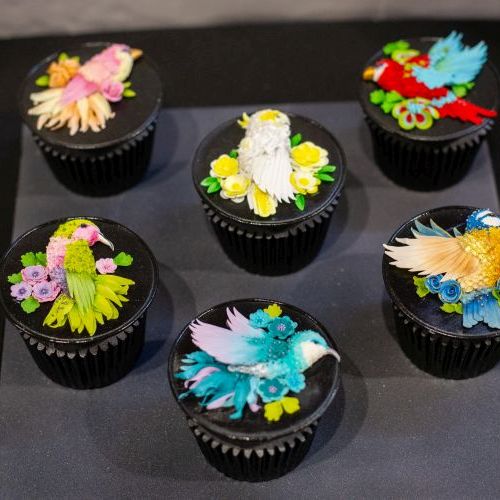 Michelle Kathleen Becker
2nd Place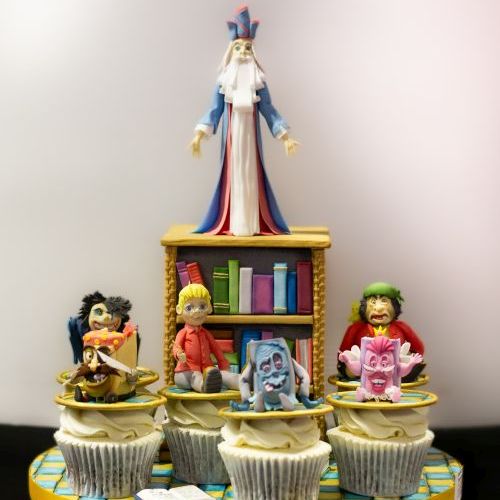 Jenna Symons
3rd Place
| Name | Surname | Country | Award | Placement |
| --- | --- | --- | --- | --- |
| Elaine | Minett | United Kingdom | Gold | 1st |
| Michelle Kathleen | Becker | United Kingdom | Gold | 2nd |
| Jenna | Symons | United Kingdom | Gold | 3rd |
| SHU-YU | HO | Taiwan | Gold | |
| PUI YEE,PIXIE | SIN | Hong Kong | Gold | |
| Anna | Lightfoot | United Kingdom | Gold | |
| TZU HAN | HSU | Taiwan | Gold | |
| Lindsay | Cairns | United Kingdom | Gold | |
| Kate | Kippersund | Norway | Gold | |
| Andrea | Babcock | United Kingdom | Gold | |
| Ho | Shu Yu | Taiwan | Silver | |
| Gill | Woolgar | United Kingdom | Silver | |
| Kristy | Court | United Kingdom | Silver | |
| Helen | Portman | United Kingdom | Silver | |
| Katherine | Halbeck | United States | Silver | |
| Yan Pin | Hsu | Taiwan | Silver | |
| Julie | Hodson-Walker | United Kingdom | Silver | |
| Marda dian | ekowati | Italy | Silver | |
| Gail | North | United Kingdom | Silver | |
| Lesley | Seeney | United Kingdom | Bronze | |
| Heena | Sagani | United Kingdom | Bronze | |
| Nicola | Palmer | United Kingdom | Bronze | |
| Jin | Chu | United Kingdom | Bronze | |
| KA MAN | CHAN | Hong Kong | Bronze | |
| Hannah | Barkham | United Kingdom | Merit | |
| jack | blower | United Kingdom | Merit | |
| Kam | Bahra | United Kingdom | Merit | |
| Lauren | Marland | United Kingdom | Merit | |
| Kathryn | Newport | United Kingdom | Merit | |
| Aysun | Ozgur | United Kingdom | Merit | |
| Charlene | Ferreira | Ireland | Merit | |
Class I – Sculpted/Carved cake including internal supports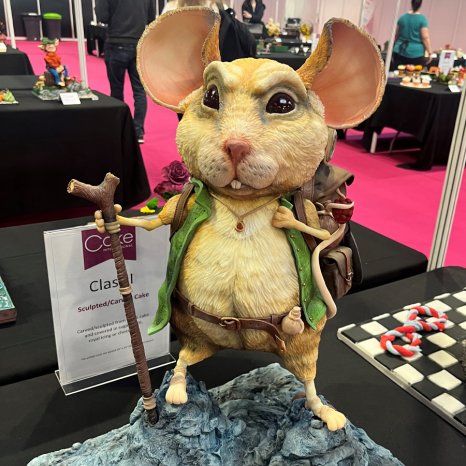 Graeme Venus
1st Place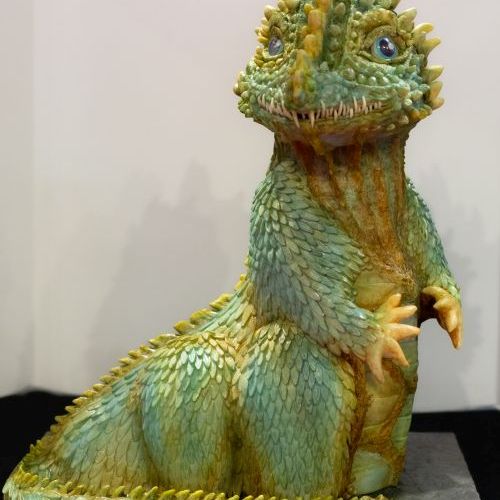 Nyoman Maria Shinta Dewi
1st Place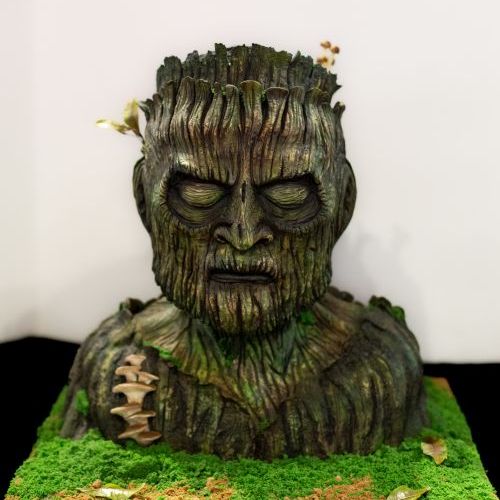 Tsveta Colligan
2nd Place
Chloe Maguire
3rd Place
| Name | Surname | Country | Award | Placement |
| --- | --- | --- | --- | --- |
| Graeme | Venus | United Kingdom | Gold | 1st |
| Nyoman Maria Shinta | Dewi | United Kingdom | Gold | 1st |
| Tsveta | Colligan | United Kingdom | Gold | 2nd |
| Chloe | Maguire | United Kingdom | Gold | 3rd |
| Shereen | van Ballegooyen | United Kingdom | Gold | |
| Melissa | Jablonski | United Kingdom | Silver | |
| Tracey | Sole | United Kingdom | Silver | |
| Fouzia | Mahmood | United Kingdom | Bronze | |
| Victoria | Allinson | United Kingdom | Bronze | |
| Natasha | Richardson | United Kingdom | Bronze | |
| Rebecca | Jones | United Kingdom | Merit | |
| KATE | LAWTON | United Kingdom | Merit | |
| Christine | Pattle | United Kingdom | Merit | |
| Lorraine | Macfarlane | United Kingdom | Merit | |
| Sue | Walker | United Kingdom | Merit | |
| Gavin | Puttick | United Kingdom | Merit | |
| Rosie | Ellis | United Kingdom | Merit | |
| Rachel | Stockton | United Kingdom | Merit | |
Class J – Decorative Exhibit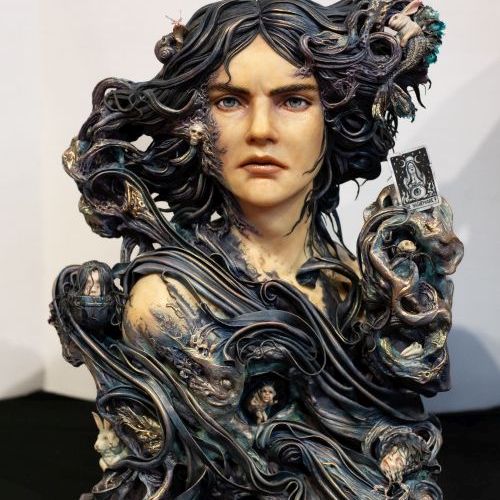 Arianna Sperandio
1st Place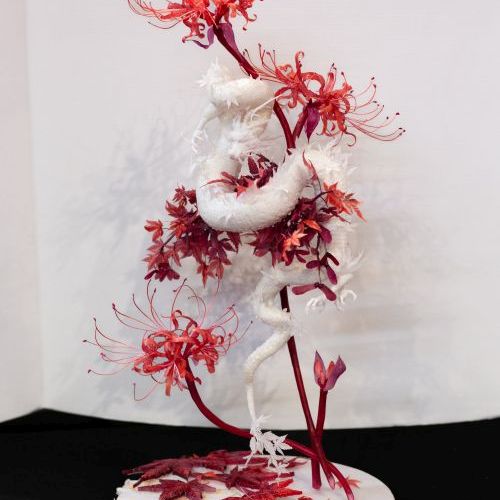 Nadia Flecha Guazo
2nd Place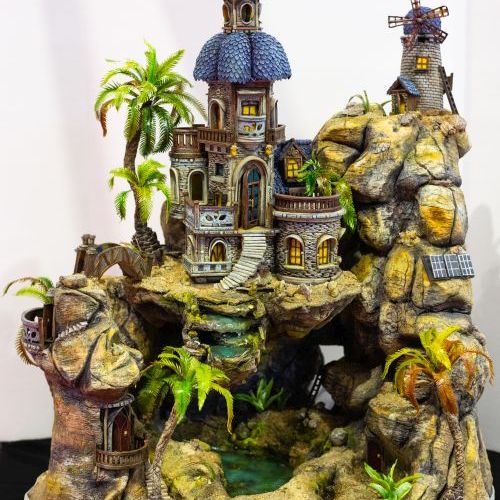 Tafadzwa Chigudu
3rd Place
| Name | Surname | Country | Award | Placement |
| --- | --- | --- | --- | --- |
| Arianna | Sperandio | Italy | Gold | 1st |
| Nadia | Flecha Guazo | Belgium | Gold | 2nd |
| Tafadzwa | Chigudu | United Kingdom | Gold | 3rd |
| Aaliyah | Morris | United Kingdom | Gold | |
| Elaine | Minett | United Kingdom | Silver | |
| Irina | Neshova | United Kingdom | Silver | |
| Kirsty | Foulkes | United Kingdom | Silver | |
| Tanya | Ross | Ireland | Silver | |
| Victoria | Bryant | United Kingdom | Silver | |
| Rachel | Wellsbury | United Kingdom | Silver | |
| Olivia | Marriner | United Kingdom | Silver | |
| Denise | Bryant | United Kingdom | Silver | |
| Jenna | Symons | United Kingdom | Silver | |
| Urszula | Maczka | United Kingdom | Silver | |
| Chiara | D'Annunzio | Italy | Silver | |
| Jovanni | Amata | United Kingdom | Silver | |
| Cara | Busby | United Kingdom | Silver | |
| Emma | Phillips | United Kingdom | Bronze | |
| Dan | James | United Kingdom | Bronze | |
| Michelle | Ambrose | United Kingdom | Bronze | |
| Elke | Koch-Ulrich | Germany | Bronze | |
| Tracey | Mckay | United Kingdom | Bronze | |
| Sara | Rice | United Kingdom | Bronze | |
| Stela | Georgieva | United Kingdom | Bronze | |
| yen-ning | Tseng | Taiwan | Bronze | |
| Anna | Lightfoot | United Kingdom | Bronze | |
| Chloe | Cheshire | United Kingdom | Bronze | |
| Sarah | Carr | United Kingdom | Bronze | |
| Naomi | Carleton | United Kingdom | Bronze | |
| Ruth | Wallace | United Kingdom | Bronze | |
| Swati | Deroliya | India | Bronze | |
| Lisa | Davidge | United Kingdom | Bronze | |
| Richard | Colhoun | United Kingdom | Bronze | |
| Natasha | Winsor | United Kingdom | Bronze | |
| Andrea | Leiter | United Kingdom | Bronze | |
| Faiza | Sherjeel | United Kingdom | Bronze | |
| Ingrida | Samoskiene | United Kingdom | Bronze | |
| Kerry | Burt | United Kingdom | Merit | |
| debbie | borthwick | United Kingdom | Merit | |
| Sunethra | De Silva | United Kingdom | Merit | |
| Caitlin | Davidson | United Kingdom | Merit | |
| Suraya | Buffong | United Kingdom | Merit | |
| William | Johnston | United Kingdom | Merit | |
| Samantha | Wood | United Kingdom | Merit | |
Class K – Small Decorative Exhibit inc. miniature decorative exhibit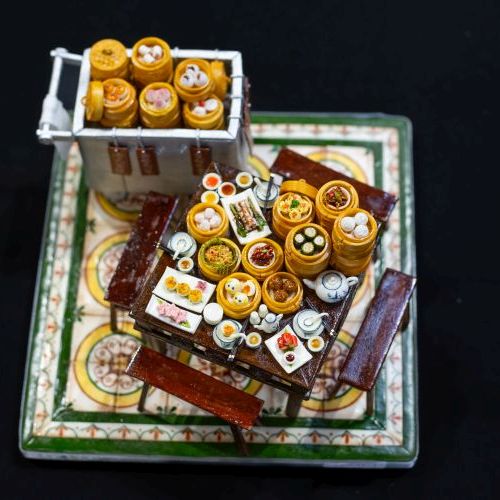 Sherry Chan
1st Place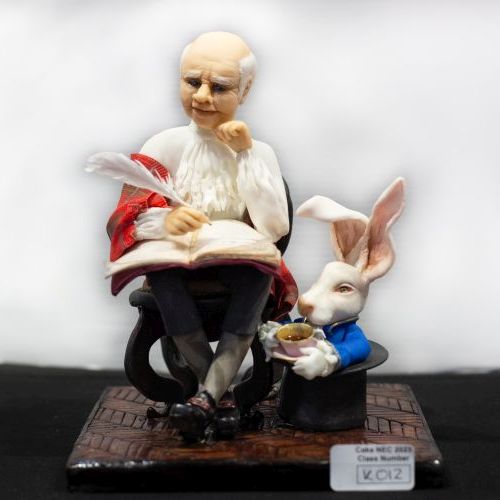 Natalia Hordyeyeva
2nd Place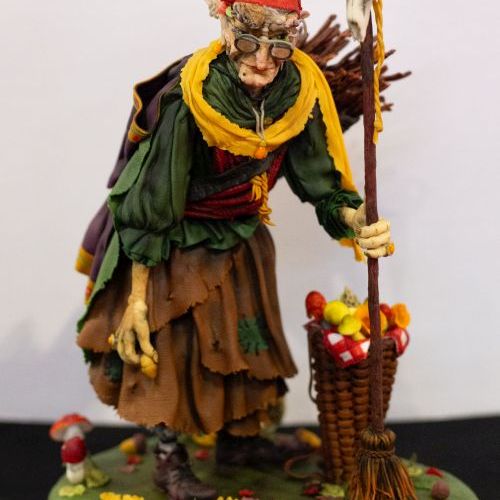 Monika Salkauskas
3rd Place
| Name | Surname | Country | Award | Placement |
| --- | --- | --- | --- | --- |
| Sherry | Chan | China | Gold | 1st |
| Natalia | Hordyeyeva | Poland | Gold | 2nd |
| Monika | Salkauskas | Canada | Gold | 3rd |
| Tanja | Pommeranz | Switzerland | Gold | |
| Michael | Wehrmann | France | Silver | |
| SAWAKO | NODA | Japan | Silver | |
| Sabine | Ziebegk | Germany | Silver | |
| Iva | Roháčová | Czech Republic | Silver | |
| Shaki | perera | Italy | Silver | |
| Cheng | Jia | China | Silver | |
| Raquel | García Martínez | Spain | Silver | |
| Li Ying | Khoo | Malaysia | Silver | |
| Vicky Ya-Fen | Chang | Taiwan | Silver | |
| 伃倢 | 鄭 | Taiwan | Silver | |
| JhenLing | Chen | Taiwan | Silver | |
| Vicki | du Plessis | United Kingdom | Silver | |
| SHIH YUN | CHUNG | Taiwan | Silver | |
| JHEN LING | CHEN | Taiwan | Silver | |
| Jane | Fehlau | Germany | Silver | |
| Ângela | Pereira | Portugal | Silver | |
| Emma | Phillips | United Kingdom | Silver | |
| Fiona | McKillop | Ireland | Silver | |
| Karen | Yiu | Hong Kong | Silver | |
| YELIZ | BILGE | Turkey | Bronze | |
| Mercedes | Guillén Requena | Spain | Bronze | |
| Sharon | Allan | United Kingdom | Bronze | |
| Lisa | Elliott | United Kingdom | Bronze | |
| Jennifer | Schnölzer | Germany | Bronze | |
| Aleksandra | Adamczyk | United Kingdom | Bronze | |
| Ingrida | Henry | United Kingdom | Bronze | |
| Lindsay | Cairns | United Kingdom | Bronze | |
| Petya | Yordanova | United Kingdom | Bronze | |
| Borislava | Borisova | United Kingdom | Bronze | |
| Winnie | Peng | United States | Bronze | |
| Kelly | Jane | United Kingdom | Bronze | |
| Hui-Ching | Hou | Taiwan | Bronze | |
| Gay | Jervis | United Kingdom | Bronze | |
| ZOLTANI | ILONA | Romania | Bronze | |
| Helen | Morgan | United Kingdom | Bronze | |
| Gemma | Annely | United Kingdom | Bronze | |
| Marina | Dewald | Germany | Bronze | |
| LENUTA | NEGOITA | Italy | Bronze | |
| Akila | Edward | United Kingdom | Merit | |
| Amanda | Oneill | United Kingdom | Merit | |
| Sheree | Queen | United Kingdom | Merit | |
| Tracey | Mckay | United Kingdom | Merit | |
| Kar Yan | Lee | Hong Kong | Merit | |
| Kai | Wing | United Kingdom | Merit | |
| Yanitsa | Mihaylova | Bulgaria | Merit | |
| Bihter | Atak | United Kingdom | Merit | |
Class L – Head Judge's Wild Card Alternative Wedding Cake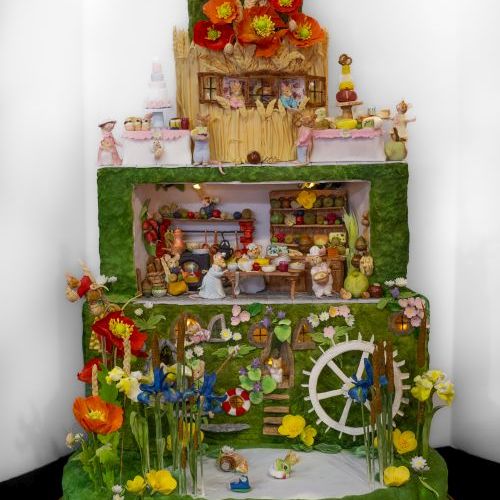 Cara Rose Maiden
1st Place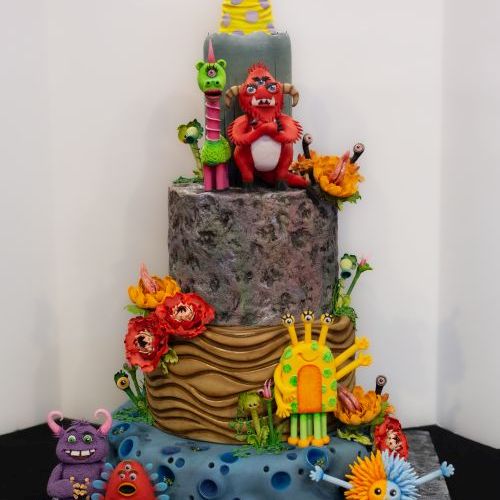 Amelia Nutting
2nd Place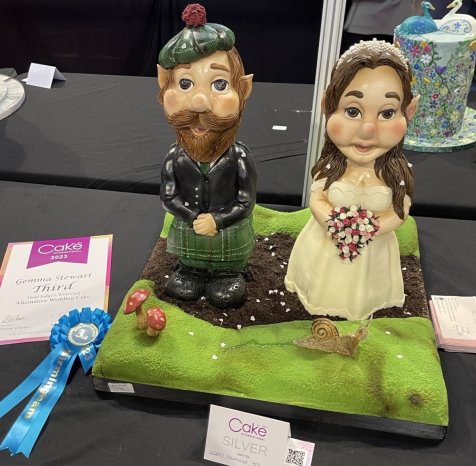 Gemma Stewart
3rd Place
| Name | Surname | Country | Award | Placement |
| --- | --- | --- | --- | --- |
| Cara Rose | Maiden | United Kingdom | Silver | 1st |
| Amelia | Nutting | United Kingdom | Silver | 2nd |
| Gemma | Stewart | United Kingdom | Silver | 3rd |
| Jemma | Dundrow | United Kingdom | Bronze | |
| Zoe | Campbell | United Kingdom | Bronze | |
| Betina | Nacheva | United Kingdom | Bronze | |
| Ellen-Marie | Barker | United Kingdom | Merit | |
| Hayley | Wilson | United Kingdom | Merit | |
| Morolayo | Okubanjo | United Kingdom | Merit | |
| Steph | Horn | United Kingdom | Merit | |
| Reanne | grimsditch | United Kingdom | Merit | |
Class M – Head Judge's Wild Card – Horror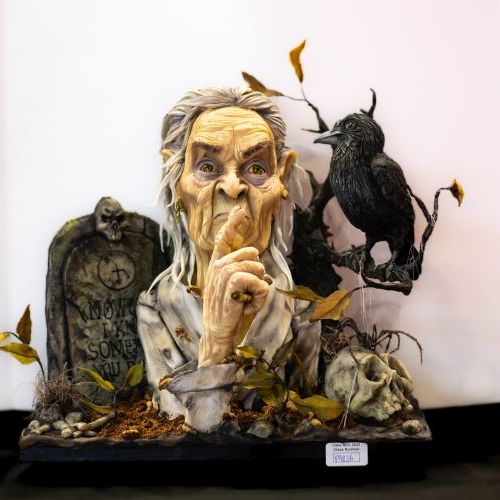 Lucie Charvátová
1st Place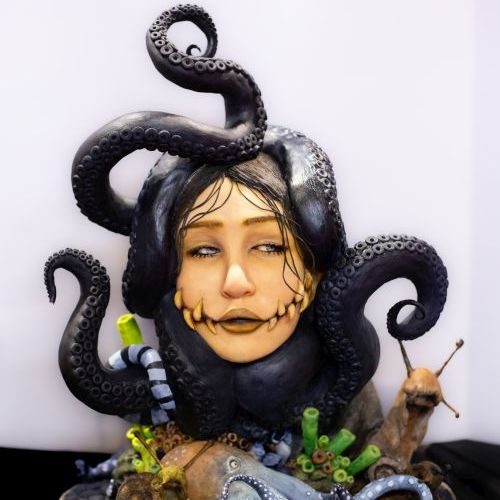 Wannisa Dolphin
2nd Place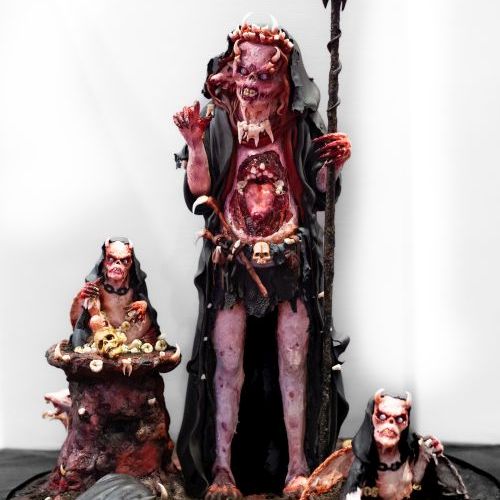 Kelly McWilliam
3rd Place
| Name | Surname | Country | Award | Placement |
| --- | --- | --- | --- | --- |
| Lucie | Charvátová | Czech Republic | Gold | 1st |
| Wannisa | Dolphin | United Kingdom | Gold | 2nd |
| Kelly | McWilliam | United Kingdom | Gold | 3rd |
| Maria | McCoid | United Kingdom | Gold | |
| Tsveta | Colligan | United Kingdom | Silver | |
| Siobhan | Osborne | United Kingdom | Silver | |
| Joanne | Upton | United Kingdom | Silver | |
| santa | Spruge | United Kingdom | Silver | |
| Kerry | Ibbotson-devine | United Kingdom | Silver | |
| Stacy | Taljaard | United Kingdom | Bronze | |
| Kate | O'Brien | United Kingdom | Bronze | |
| LAURA | ABBEY | United Kingdom | Bronze | |
| Gary | Scott | United Kingdom | Bronze | |
| Kelly | Smith | United Kingdom | Bronze | |
| Melissa | Jablonski | United Kingdom | Bronze | |
| Jessica | Bidwell | United Kingdom | Bronze | |
| Suzanne | Glew | United Kingdom | Bronze | |
| Nicola | Burns | United Kingdom | Bronze | |
| Amy | Baker | United Kingdom | Bronze | |
| Jamie | Burns | United Kingdom | Bronze | |
| Aimee | Richards | United Kingdom | Bronze | |
| Mariama and Kamelah | Fernandez | United Kingdom | Bronze | |
| Jinny | Maxwell | Ireland | Bronze | |
| Steph | Parker | United Kingdom | Bronze | |
| Lauren | Marland | United Kingdom | Merit | |
| Vicky | Newport | United Kingdom | Merit | |
| Sharon | Fogarty | United Kingdom | Merit | |
| Mylene | Wolfe | United Kingdom | Merit | |
| Susan | Tyler | United Kingdom | Merit | |
| Stephanie | Halliwell | United Kingdom | Merit | |
| Richard | Colhoun | United Kingdom | Merit | |
| Sarah | Cooper | United Kingdom | Merit | |
| Diane | Collett | United Kingdom | Merit | |
| Hannah | Barkham | United Kingdom | Merit | |
| Tracey | Mckay | United Kingdom | Merit | |
Class N – Royal Iced Celebration Cake of 1, 2 or 3 tiers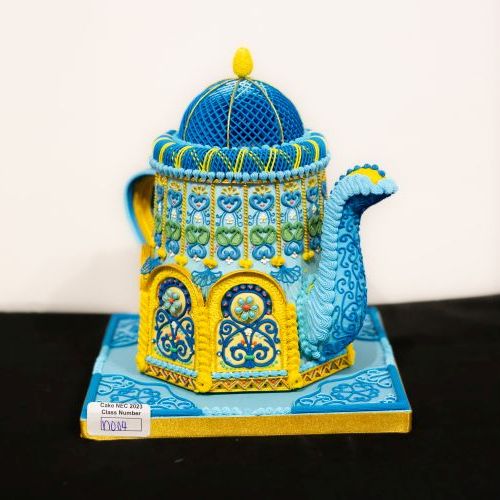 PEIZHUAN ZHANG
1st Place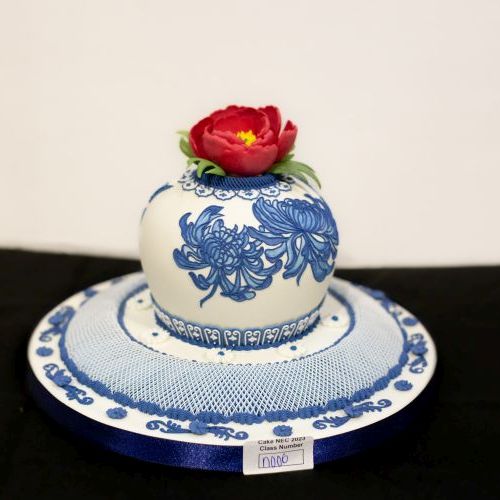 Ya Fen Chang
2nd Place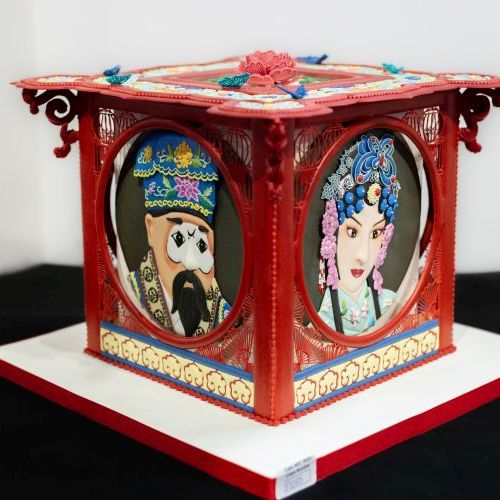 Jui-Ting Huang
3rd Place
| Name | Surname | Country | Award | Placement |
| --- | --- | --- | --- | --- |
| PEIZHUAN | ZHANG | Taiwan | Gold | 1st |
| Ya Fen | Chang | Taiwan | Silver | 2nd |
| Jui-Ting | Huang | Taiwan | Silver | 3rd |
| Rhian | Crusher | United Kingdom | Silver | |
| Su-Li | Yu | Taiwan | Bronze | |
| Ethel Wing-Chung | Choi | Hong Kong | Bronze | |
| Pam | James | United Kingdom | Merit | |
| Rocio | Fukuda | United States | Merit | |
| Vida | Rees | United Kingdom | Merit | |
Class O – Single Tiered Celebration Cake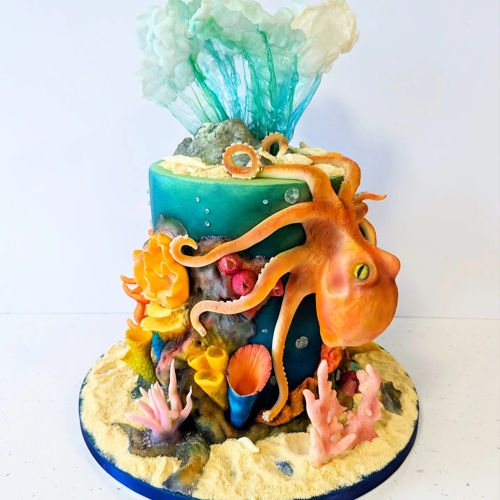 Erika Sionis
1st Place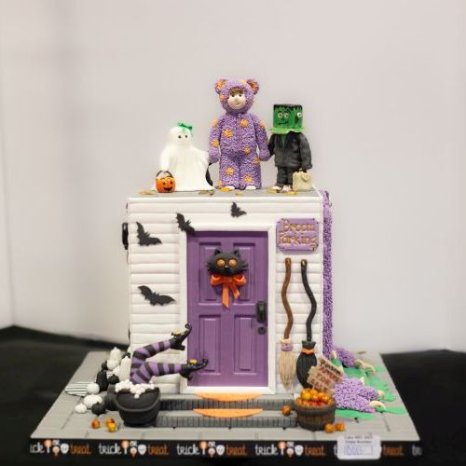 Emma Matthews
2nd Place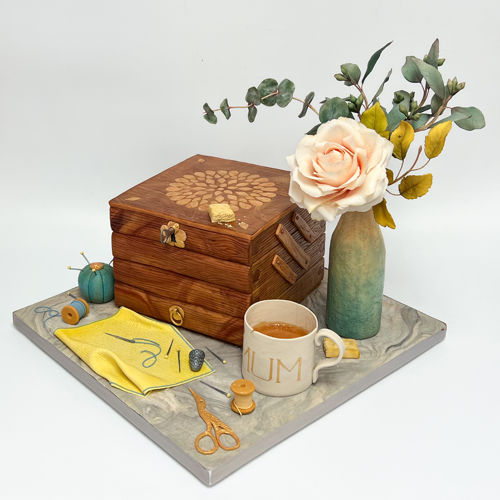 Debbie Lock
3rd Place
| Name | Surname | Country | Award | Placement |
| --- | --- | --- | --- | --- |
| Erika | Sionis | United Kingdom | Gold | 1st |
| Emma | Matthews | United Kingdom | Gold | 2nd |
| Debbie | Lock | United Kingdom | Gold | 3rd |
| Joyce | Wehrmann | France | Gold | |
| Chrissie | Ayris | United Kingdom | Gold | |
| Paulina | Boguslawska | United Kingdom | Silver | |
| Tamsin | Handley | United Kingdom | Silver | |
| Ingrida | Henry | United Kingdom | Silver | |
| Holly | Grove | United Kingdom | Bronze | |
| Trula | Sanderson | United Kingdom | Merit | |
| Kristina | Collingwood | United Kingdom | Merit | |
| Alison | Hayman | United Kingdom | Merit | |
| Shyamalee Judy | Dissanayake | Italy | Merit | |
| Simona | Miholca | France | Merit | |
| Helen | Howlett | United Kingdom | Merit | |
| Sharon | Hales | United Kingdom | Merit | |
| Tania | Boyer | United Kingdom | Merit | |
Class P – Wedding Cake of 3 or More Tiers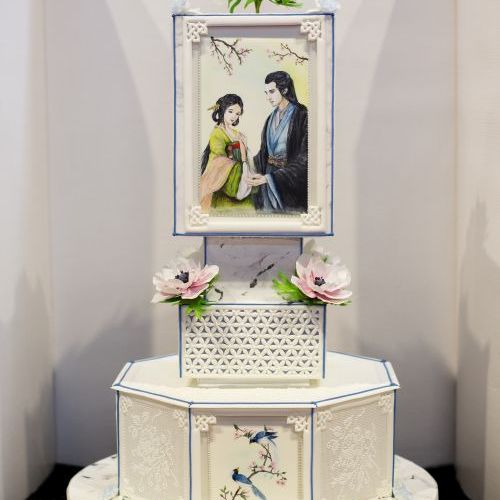 Katalin Brindley
1st Place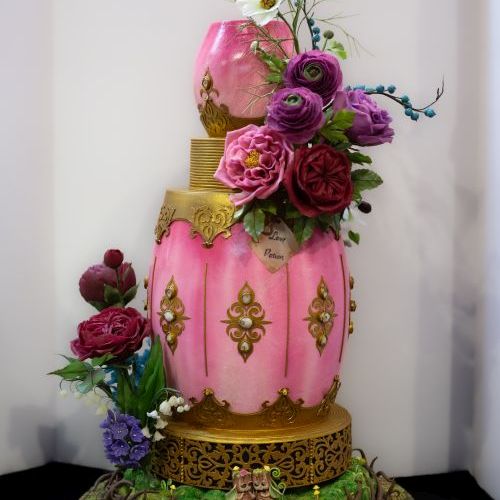 Nivia Rodrigues de Melo
2nd Place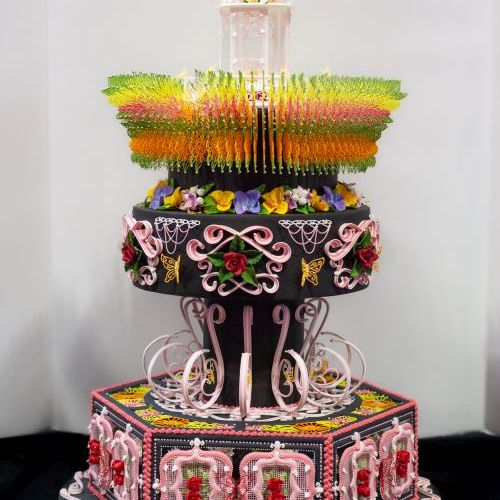 Sai Cheong Ten
3rd Place
| Name | Surname | Country | Award | Placement |
| --- | --- | --- | --- | --- |
| Katalin | Brindley | United Kingdom | Gold | 1st |
| Nivia | Rodrigues de Melo | United Kingdom | Gold | 2nd |
| Sai Cheong | Ten | Singapore | Gold | 3rd |
| Qi | Zhang | China | Gold | |
| Fang Chi | Shen | Taiwan | Silver | |
| Shan | He | China | Silver | |
| Nicky | Harrison | United Kingdom | Silver | |
| Sishi | Shao | China | Silver | |
| Stephanie | McNab | United Kingdom | Silver | |
| Deborah | Edwards | United Kingdom | Silver | |
| Cheng | Zhen | China | Silver | |
| Sadie | Jones | United Kingdom | Silver | |
| Jan | Finn | United Kingdom | Silver | |
| Vanessa | Albury | United Kingdom | Silver | |
| Edwina | Hughes | United Kingdom | Silver | |
| Sharon | Barnsdale-Hall Barnsdale-Hall | United Kingdom | Silver | |
| Lankika | Illukkumbura | United Kingdom | Silver | |
| Yuko | McCloud | United Kingdom | Bronze | |
| Zoe | Campbell | United Kingdom | Bronze | |
| Trula | Sanderson | United Kingdom | Bronze | |
| Kerry | McFarlane | United Kingdom | Bronze | |
| Danielle | Lyons | United Kingdom | Bronze | |
| Caroline | Mills | United Kingdom | Bronze | |
| Sally | Farmer | United Kingdom | Bronze | |
| JACKIE | DIAMOND | United Kingdom | Bronze | |
| Malani | Kariyakarawana | United Kingdom | Bronze | |
| Lou | Finn | United Kingdom | Bronze | |
| Trula | Sanderson | United Kingdom | Bronze | |
| Sharon | Allan | United Kingdom | Bronze | |
| Sarah | Forward | United Kingdom | Bronze | |
| Kimberley | Cooper | United Kingdom | Bronze | |
| Alison | Brown | United Kingdom | Bronze | |
| Ros | Summers | United Kingdom | Bronze | |
| Erlinda | Esleyer | United Kingdom | Bronze | |
| Annie | Bennett | United Kingdom | Bronze | |
| Sarah | Wennell | United Kingdom | Merit | |
| Grace | Kanengoni | Zimbabwe | Merit | |
| Cheryl | Gaulton | United Kingdom | Merit | |
| Maggie | Poon | Hong Kong | Merit | |
| Rachel | Matthews | United Kingdom | Merit | |
| Sarah | Phillips | United Kingdom | Merit | |
| Deborah | Kwashie | Ghana | Merit | |
| Barbara | Mazzei | Italy | Merit | |
| Kate | Kippersund | Norway | Merit | |
| Louisa | Nelson | United Kingdom | Merit | |
| Julie | Hodson-Walker | United Kingdom | Merit | |
| Efeturi | Emeledor | United Kingdom | Merit | |
| efeturi | emeledor | United Kingdom | Merit | |
| Alessandra | Johnston | United Kingdom | Merit | |
| Ingrida | Samoskiene | United Kingdom | Merit | |
| Tracy | Jupp | United Kingdom | Merit | |
| Lynda | Trembling | United Kingdom | Merit | |
| Sammie | Turnbull | United Kingdom | Merit | |
| Helen | Mansbridge | United Kingdom | Merit | |
| QIAO | YANG | United Kingdom | Merit | |
| Gwendolynn Ruby | Buffong | United Kingdom | Merit | |
| Morolayo | Okubanjo | United Kingdom | Merit | |
Class Q – Miniature wedding cake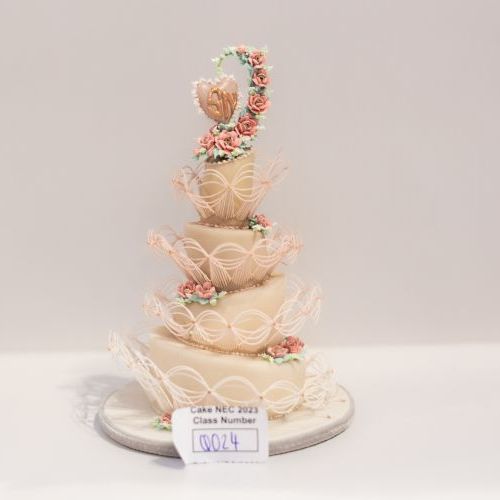 Shaki Perera
1st Place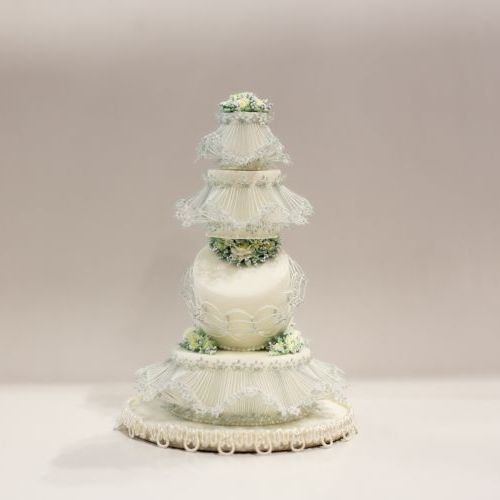 Shaki Perera
2nd Place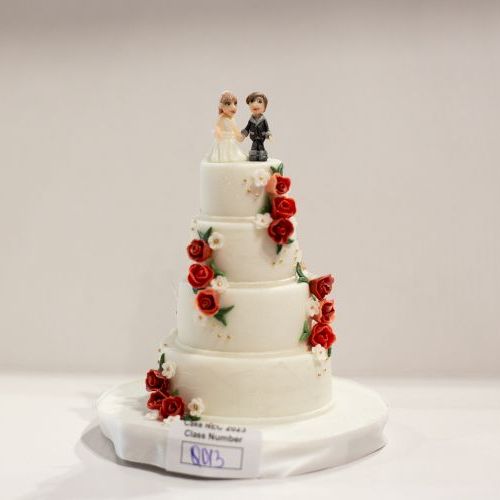 Laura Partridge
3rd Place
| Name | Surname | Country | Award | Placement |
| --- | --- | --- | --- | --- |
| Shaki | Perera | Italy | Gold | 1st |
| Shaki | Perera | Italy | Gold | 2nd |
| Laura | Partridge | United Kingdom | Gold | 3rd |
| Lankika | Illukkumbura | United Kingdom | Gold | |
| Sadie | Jones | United Kingdom | Gold | |
| Jane | Farley | United Kingdom | Silver | |
| Shyamalee Judy | Dissanayake | Italy | Silver | |
| Lynda | Sheahan | United Kingdom | Silver | |
| Ethel Wing-Chung | Choi | Hong Kong | Bronze | |
| Hiromi | Shikiji | Japan | Bronze | |
| Adina Claudia | Nastase | Gibraltar | Bronze | |
| Tanya | Ross | Ireland | Bronze | |
| Galina | Garova - Mihaylova | Bulgaria | Bronze | |
| Nina | Tang | Germany | Bronze | |
| Helen | Howlett | United Kingdom | Merit | |
| Marina | Dewald | Germany | Merit | |
| Tan | Wan Peng Germaine | Singapore | Merit | |
| Kimberley | Cooper | United Kingdom | Merit | |
| Belinda | Bihari | Switzerland | Merit | |
| Erica | Farley | United Kingdom | Merit | |
| PUI YEE,PIXIE | SIN | Hong Kong | Merit | |
| Ellen-Marie | Barker | United Kingdom | Merit | |
| Lorraine | Tolley | United Kingdom | Merit | |
| Ingrida | Henry | United Kingdom | Merit | |
| Heather | McGrath | Canada | Merit | |
Class R – Beginners 1 or more tier
MING YI HSU
1st Place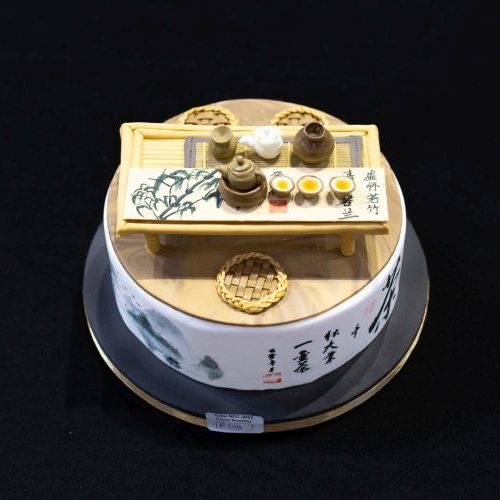 YI-NI KAO
2nd Place
| Name | Surname | Country | Award | Placement |
| --- | --- | --- | --- | --- |
| MING YI | HSU | Taiwan | Silver | 1st |
| YI-NI | KAO | Taiwan | Silver | 2nd |
| Maggie | Poon | Hong Kong | Bronze | |
| Hannah | Dalby | United Kingdom | Merit | |
| Katie | Gibbs | United Kingdom | Merit | |
| Katerina | Pentalioti | United Kingdom | Merit | |
| Saya | McLeod | United Kingdom | Merit | |
| Nicola | Lampitt | United Kingdom | Merit | |
| Shalini | Sothilingam | United Kingdom | Merit | |
| Johnathan | Wood | United Kingdom | Merit | |
Class S – Hand Painted Cake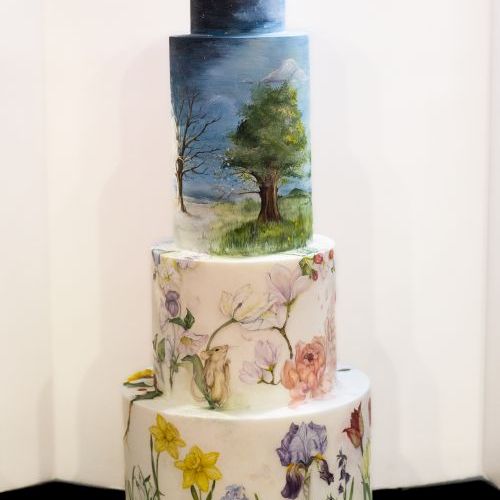 Anna Lamb
1st Place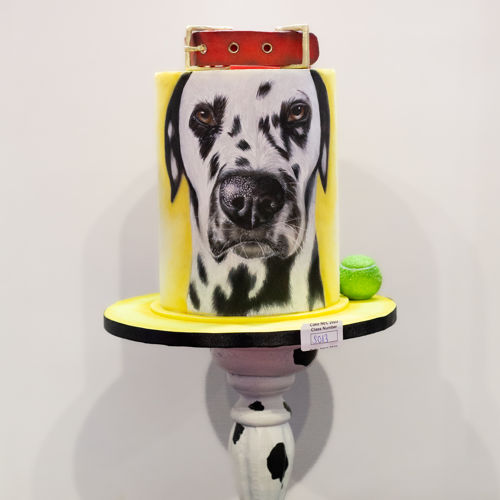 Daca Šobot
2nd Place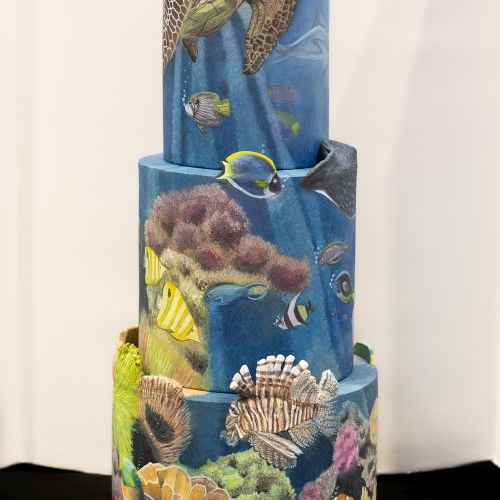 Ricarda Casey
3rd Place
| Name | Surname | Country | Award | Placement |
| --- | --- | --- | --- | --- |
| Anna | Lamb | United Kingdom | Gold | 1st |
| Daca | Šobot | Croatia | Gold | 2nd |
| Ricarda | Casey | United Kingdom | Gold | 3rd |
| Rosie | Cook | United Kingdom | Gold | |
| Sandy | Wu | Taiwan | Silver | |
| Claudia | Santana Ubben | United Kingdom | Bronze | |
| Liliya | Petrova | United Kingdom | Bronze | |
| Díana | Estrella | Peru | Bronze | |
| Carole | Bertrand | France | Bronze | |
| Silvija | Engele | United Kingdom | Bronze | |
| Lesley | Oneill | United Kingdom | Merit | |
| Tatjana | Dotsenko | United Kingdom | Merit | |
| Jenny | Pasha | United Kingdom | Merit | |
| Kendra | Doherty | United Kingdom | Merit | |
| Lyn | Rees | United Kingdom | Merit | |
| Alice | Featherstone | United Kingdom | Merit | |
Class T – Illusion Cakes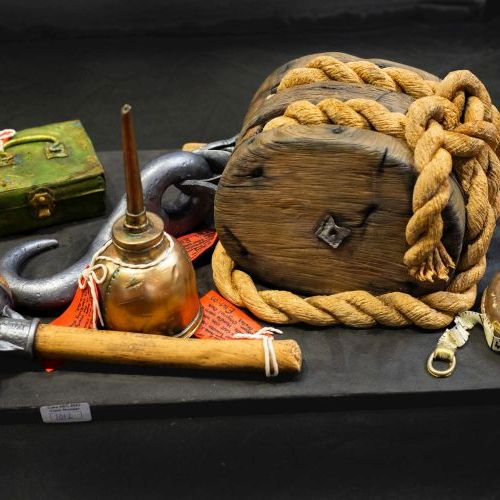 Rachel Stockton
1st Place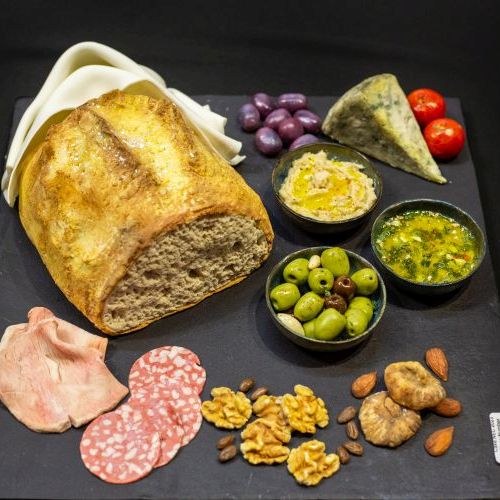 Diya Pal
2nd Place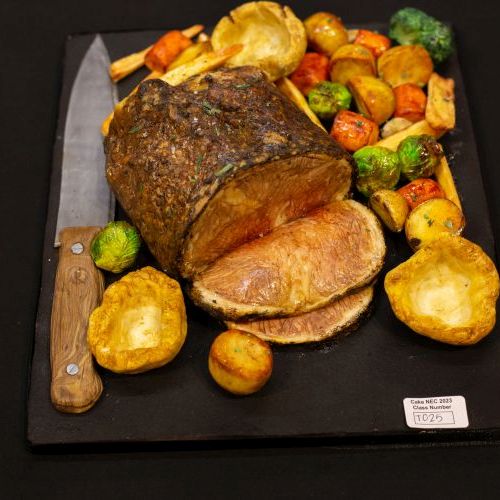 Diya Pal
3rd Place
| Name | Surname | Country | Award | Placement |
| --- | --- | --- | --- | --- |
| Rachel | Stockton | United Kingdom | Silver | 1st |
| Diya | Pal | United Kingdom | Silver | 2nd |
| Diya | Pal | United Kingdom | Silver | 3rd |
| JULIE | WILLIAMSON | United Kingdom | Silver | |
| Nicola | Leeming | United Kingdom | Silver | |
| Carole | Bertrand | France | Silver | |
| Donna | Newman | United Kingdom | Bronze | |
| Rebecca | Mackenzie | United Kingdom | Bronze | |
| gemma | jaap | United Kingdom | Bronze | |
| Liliya | Petrova | United Kingdom | Bronze | |
| Lindsay | Ross | United Kingdom | Bronze | |
| Kate-Molly | Petrie | United Kingdom | Bronze | |
| Jenny | Pasha | United Kingdom | Bronze | |
| Catherine | Baker | United Kingdom | Bronze | |
| Chetan | Vallabh | United Kingdom | Bronze | |
| Diya | Pal | United Kingdom | Bronze | |
| Jane | Farley | United Kingdom | Merit | |
| Claire | Diggle | United Kingdom | Merit | |
| Hilma | Nardi | United Kingdom | Merit | |
| Hayley | Murdoch | United Kingdom | Merit | |
Class U – Decorative Life Size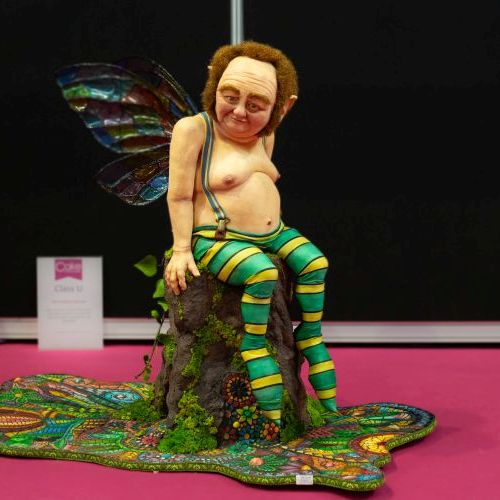 Kerry Hemms, Verity Malinowska & Dusica Roberts
1st Place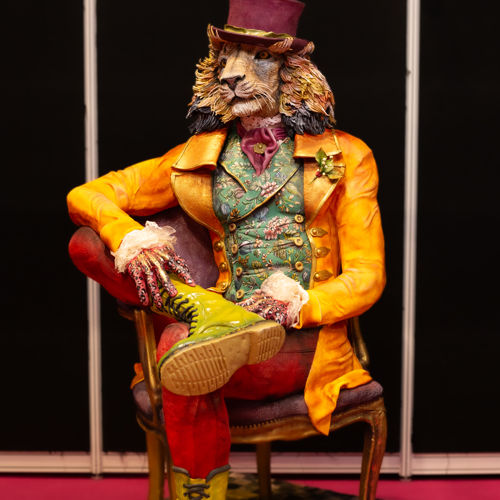 Jenny Chambers
2nd Place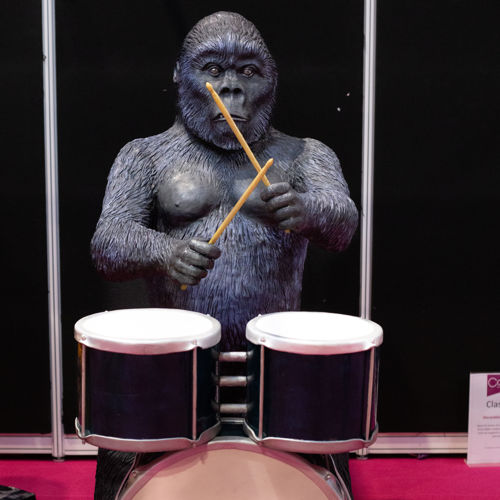 Anna Dillon
3rd Place
| Name | Surname | Country | Award | Placement |
| --- | --- | --- | --- | --- |
| Kerry | Hemms | United Kingdom | Gold | 1st |
| Jenny | Chambers | United Kingdom | Silver | 2nd |
| Anna | Dillon | United Kingdom | Silver | 3rd |
| Debbie | Lock | United Kingdom | Bronze | |
| Samantha | Hamer | United Kingdom | Bronze | |
Class V – Cold Porcelain Floral Display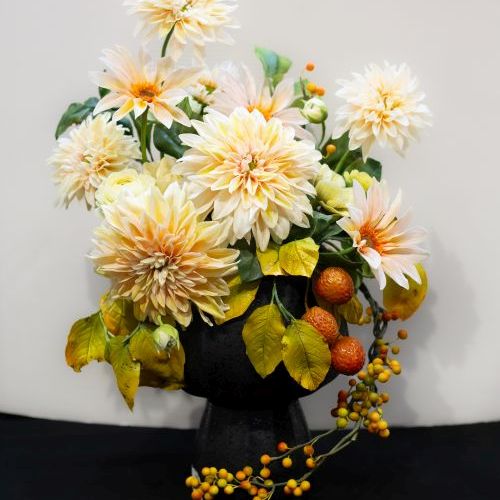 LI JUAN SUN
1st Place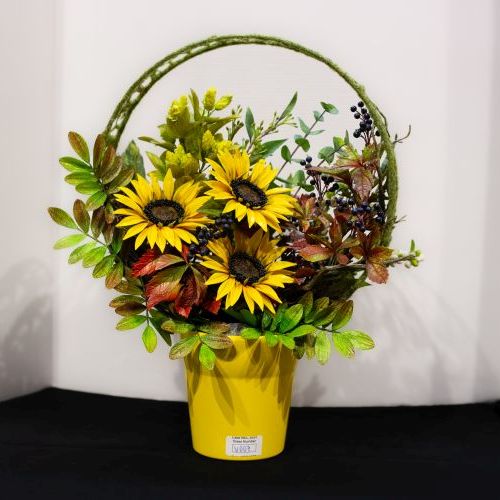 Ingrid-Maria Sekljic
2nd Place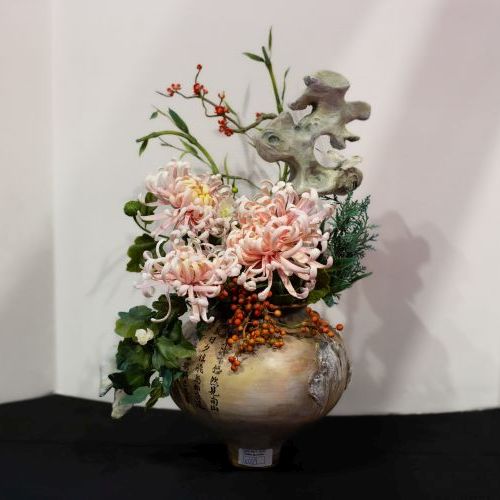 Yang Dong Xiang
3rd Place
| Name | Surname | Country | Award | Placement |
| --- | --- | --- | --- | --- |
| LI JUAN | SUN | China | Gold | 1st |
| Ingrid-Maria | Sekljic | Austria | Gold | 2nd |
| Yang | Dong Xiang | China | Gold | 3rd |
| Yali | Feng | Hong Kong | Silver | |
| Tan | Wan Peng Germaine | Singapore | Bronze | |
| LENUTA | NEGOITA | Italy | Merit | |
| Bonnie Tsui Yee | Chan | Hong Kong | Merit | |
| Paula | Wright | United Kingdom | Merit | |
Class W – Cold Porcelain Figurine Display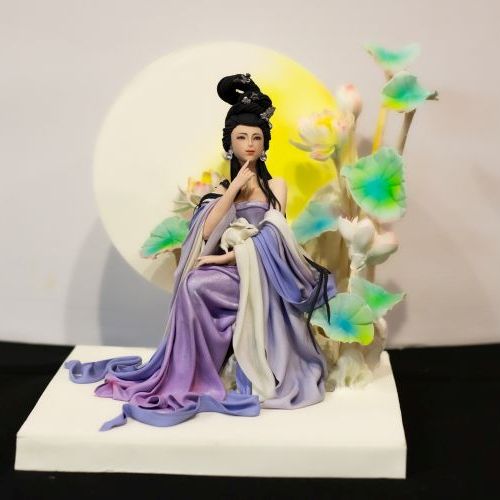 yizhen zeng
1st Place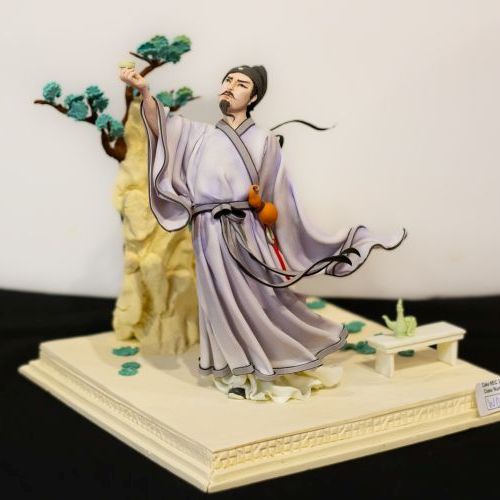 yizhen zeng
2nd Place
| Name | Surname | Country | Award | Placement |
| --- | --- | --- | --- | --- |
| yizhen | zeng | China | Gold | 1st |
| yizhen | zeng | China | Gold | 2nd |
| Carolina Angélica | Ferreira Riedlinger | United Kingdom | Bronze | |