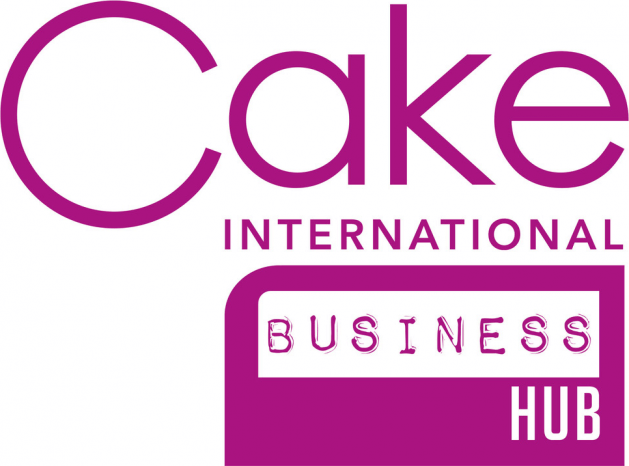 Hello from the Cake International Business Hub
Welcome to the new CI Business Hub!
The CI Business Hub has been designed to help grow the cake industry. Within the hub, we will be sharing business advice and knowledge from industry experts to help make your cake business thrive.
Free Business Advice
These free, downloadable articles are presented to you by renowned cake artists offering their expert advice and top tips on how to run a profitable and thriving business.
Great photos are key to showcasing your designs online, and creating maximum impact. Award-winning cake maker Corinna Maguire reveals her top tips for nailing the perfect shot… click here
'I have a great business and everyone says my cakes are great, but I just don't seem to be making much money.' Sound familiar? Take David Brice's expert advice… click here
Business Hub Insights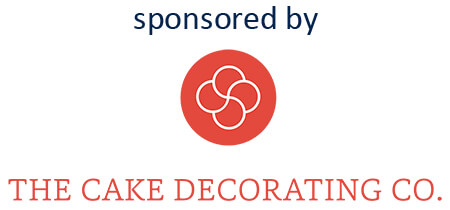 These interactive insightful sessions will provide invaluable help and business advice from leading cake industry experts who will discuss a series of business topics and share their knowledge on how to grow a cake business.
They are aimed at the trade and are ideal for those looking to start their own cake company or are already within the cake industry and want to grow and develop their business successfully.
The Business Hub Insights cost just £25 per session.
How to access the Business Hub Insights?
All of the sessions are held on a closed Facebook group and are able to view live, play back at your convenience and are accessible indefinitely (subject to Facebook terms) .
Once you have bought your ticket to one of the sessions you will receive an email receipt which will then be followed by an email with joining instructions.

Cake International cannot be held responsible for the students' wifi reception when transmitting the demonstrations.
Each demo is approximately 60-90 mins, some may be pre-recorded but the tutor will be available in the group during the scheduled time to answer any questions.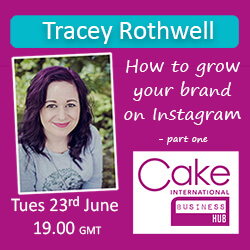 Tracey Rothwell
How to grow your brand on Instagram
Part 1
Tuesday 23rd June
19.00 BST
£25 per person
BOOK/ MORE INFO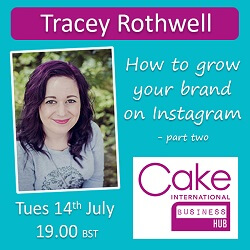 Tracey Rothwell
How to grow your brand on Instagram
Part 2
Tuesday 14th July
19.00 BST
£25 per person
BOOK/ MORE INFO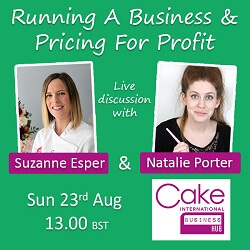 Natalie Porter & Suzanne Esper
Running a Business
and Pricing for Profit
Sunday 23rd August
13.00 BST
£30 per person
BOOK/ MORE INFO