Cake International is synonymous with its world class competition, which showcases the talent of cake artists from across the globe.
The world famous Cake International Judges are expected to maintain and abide by the highest of standards, adhering to Cake International regulations and code of best practice for judges. The judges are expected to act honestly, impartially and judge under the guidance of the Senior Judges and the Head Judge, David Close.
The Judges are selected and invited to train by the senior management team, the training is an intense programme of a minimum of 2 shows.
We are proud to work with our team of judges, our 2022 judges can be seen here.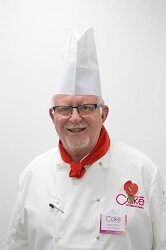 David Close, Head Judge