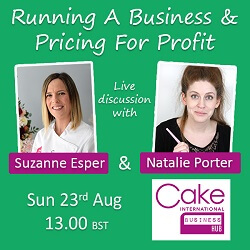 Natalie Porter & Suzanne Esper – 23rd August @13.00 BST
The next session in our Business Hub Insights will be a live discussion with two well known industry figures Natalie Porter and Suzanne Esper. This session will focus on 'Running a business and pricing for profit'.
Natalie Porter is the owner of Immaculate Confections and creator of bespoke and award winning wedding cakes.
Suzanne Esper of Suzanne Esper Cake School is the artist behind hand-crafted, luxury wedding cakes
and her successful online classes.
An overview of the session:
One hour in-depth discussion about the pitfalls of running a business and how to overcome them
How to price your cakes to make a profit