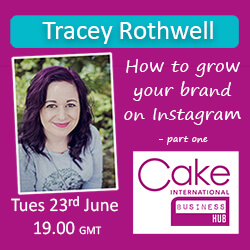 Tracey Rothwell – 23rd June @ 19.00 GM
The first of our Business Hub Insights will be hosted by the lovely Tracey Rothwell and focused on 'How to grow your brand on Instagram – Part One'.
Tracey Rothwell is the owner of a highly successful cake business, 'Little Cherry Cake Company'. She has appeared on TV and has a passion for teaching. Her huge Instagram following with over 54.6k followers contributes to the success of her career and she's passionate to share her knowledge of brand growth!
An overview of Tracey's first session:
Creating a bio that works for your brand
What images to upload and what to stay away from
Editing your images for a cohesive aesthetic
How to layout your personal feed to turn browsers into followers
"Loved it. Thank you so much for sharing the info with us. Really enjoyed it" Sylwia Price, Marketing & Logistics Manager, Saracino