*** THIS COMPETITION HAS NOW CLOSED.***
If you have entered, don't forget to request to join the 'CI Virtual Edition – March 2021' group on Facebook to see the winners announced on 6th March! Request to join here and don't forget to include your name and order number so we can admit you in: CI Virtual Edition – March 2021 | Facebook
Back by popular and global demand, the CI Virtual Edition Competition has 20 categories to choose from including 2 brand-new categories –'Any edible medium decorated cookies' and '2 tier Buttercream Cake.' The competition is proudly sponsored by Renshaw Academy.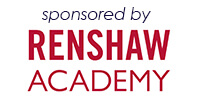 Entries will be judged with our new virtual Gold, virtual Silver, virtual Bronze and virtual Merit awards and there's a £200 cash prize for the Best in Show winner!
Enter today for just £20 and you get your cake judged by the famous CI judges plus a FREE ticket for the CI Virtual Show (Saturday 6th March) on Facebook, which includes a dedicated competitor group!

Deadline for entries, payment and sending all images is 16.00 UK time on Friday 19th February 2021.
The winners will be announced by Head Judge David Close during the virtual show on Saturday 6th March.
Please read the schedule and rules carefully, and good luck!
Please note:
All images should be supplied without logos, watermarks or any identifying marks
Choose from the following categories
Wafer Paper flowers

Floral Exhibit

Floral Inspirations

Royal Iced Decorated Cookies

3D Display of Cookies

Any edible medium decorated cookies

Decorated Plaque

Display of Cupcakes

Sculpted/Carved Cake

Decorative Exhibit

Decorative Exhibit Figures or Busts

Small Decorative Exhibits

2 tier Buttercream Cake

Head Judge's Wild Card

Royal Iced Celebration Cake 1, 2 or 3 tiers

Single Tiered Celebration Cake

Wedding Cake of 2 or More Tiers

Colourful Wedding Cake of 2 or more tiers

Beginners

Hand Painted Cake