With so much to see and do at CI, you might not be able to spend a full day in the workshop room which is why we have created a programme of 3 hour workshops!
If you want to get exclusive tutoring and learn from some of the industry's best artists these workshops provide the perfect opportunity.
With a maximum of 15 students per session places are limited, book now to avoid disappointment.
As each student works at a different speed and/or level, we cannot guarantee you will complete the finished piece in the allotted time.
All equipment is provided (to be returned at the end of your session). Workshop tickets give you entry to the main show.



Main Hall
Lionel by Vicky Teather
Saturday 5th November 2022 10.00 – 13.00hrs (3 hours)
Join Vicky Teather of Yellow Bee Sugar Art for a morning of modelling fun. During the class you'll learn how to create a dancing lion cake topper.
This workshop includes the following techniques –
Modelling skills, you'll learn to create the lion and leaves from hand. No moulds are used in the class.

Working with a basic structure.

How to create animated and cute characters.

Working with dust colours to create depth and details on your models.

An introduction to working with modelling paste.
Skills taught: Modelling, Animation, Colours
All students will receive 5% discount on Vicky's new book and 10% off Making Sugar Models.
Price: £95.00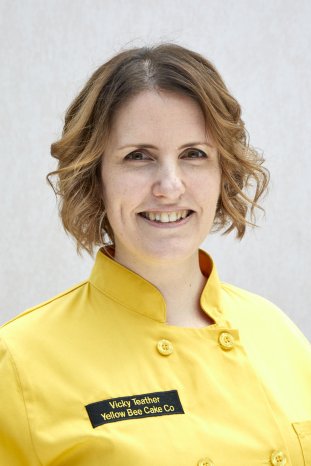 Vicky Teather is the owner of Yellow Bee Sugar Art,
an award winning cake artist, from Basingstoke, Hampshire.
Her awards include Top 10 UK Cake Artist of 2019, Cupcake Artist of the year 2016 and Best Magazine Cover 2017 at the Cake Masters awards, 1st place for her cupcake designs and miniature work at the prestigious Squire's Kitchen Annual Exhibition 2013, 2014 and 2016 and Multiple awards at Cake International.
Vicky is a UK ambassador for Magic Colours.
Vicky also creates tutorials for Cake Decorating Heaven, Cake Decoration and Sugarcraft, Cake Masters and Cakes and Sugarcraft magazines.
Cake International Terms & Conditions for Workshops
All reasonable steps will be taken to ensure our workshop areas are made safe.
All materials and equipment required to create the piece advertised provided. You will be able to take home your finished piece (not the equipment supplied).
It might be necessary for some small items to be supplied by the student, a list will be sent to you before the workshop.
The student is responsible for their own travel costs to and from the workshop.
Please be aware that it is possible that the workshop may run over the expected finish time.
Due to such a high demand for places, the full payment is required upon booking.
Please be aware that once the full payment has been made, we are unable to refund so please double check travel arrangements before committing to a workshop.
Maximum number of students are stated in each class description.
All students must be 18 or older and are legally responsible for themselves and their actions whilst participating in the workshop.
In the unlikely event the workshop is cancelled by Cake International, you will receive a full refund. Cake International cannot be held responsible for any of your travel/accommodation costs.