The workshops programme at CI are second to none, we will once again line up world class tutors who will provide you with hands on tutorials in a small group setting. This is your chance to learn to skills, tips and tricks from the very best cake artists in the industry.
Enjoy a once in a lifetime opportunity to learn close-up from the world greatest tutors. Hands-on tutorials in intimate classroom settings, teaching you the very latest trends and techniques. Book now as places are VERY limited.
As each student works at a different speed and/or level, we cannot guarantee you will complete the finished piece in the allotted time.
Full day workshops include lunch and refreshments. All equipment is provided (to be returned at the end of your session). Workshop tickets give you entry to the main show.



Main Hall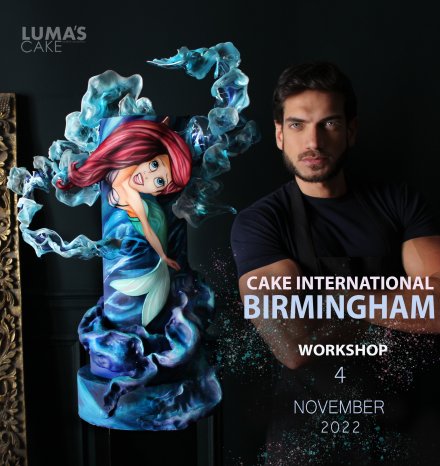 SPONSORED BY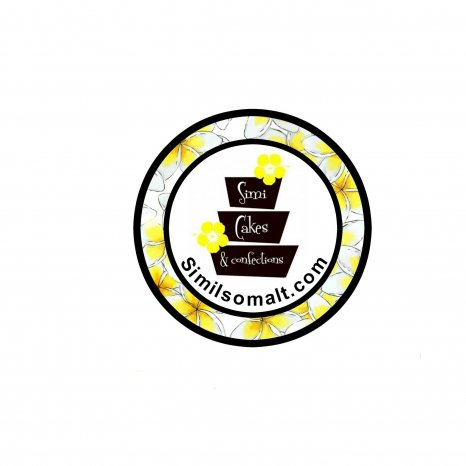 Colourful Ariel Cake by Javier Azocar
Friday 4th November 2022 08.30 – 17.30hrs (9 hours)
This workshop includes the following techniques –
Painting and drawing on sugar fondant, how and with which materials to make Ariel or any other character on your cakes
How to prepare and use isomalt to create the waves (Manipulation and Modeling).
How to make ruffles with edible paper
How to cover your cake or dummy of Sugar fondant with perfectly sharp angles.
3D effect and modeling.
Please note all students will be working on a dummy. Care must be taken when using isomalt, participants must be aged 18+.
Skills taught: Modelling, Manipulation, Painting
Price: £290.00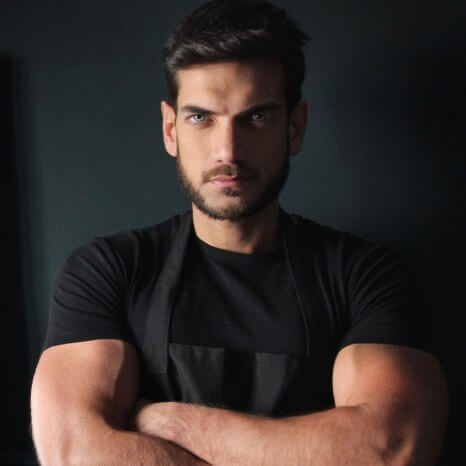 The creator behind Luma's Cake, Javier Azocar is an award-winning cake artist who has been oil painting from the age of seven, until cakes beacame his new canvas. His first cake in 2011 for his son Lucas's first birthday then became an opportunity to improve with one objective: amaze them! In 2018, after the huge success of two workshops in Paris, countries around the world have succumbed, from Madrid to Singapore, from Dubai to Kuala Lumpur more than 30 nations have invited Luma's Cake to teach at their School and more than 3000 peoples have been trained by Javier. Don't miss the opportunity to learn the techniques and hidden tricks, and learn from his knowledge in a nice, friendly and fun atmosphere.
Lucrezia by Molly Coppini
Friday 4th November 2022 09.00 – 17.30hrs (8.5 hours)
This workshop will teach the following skills –
Structure
Modeling
Proportions
Balance and symmetry
Correct positioning
Dust shading
Please note all students will be working on a dummy. A translator will be used in this workshop.
Price: £290.00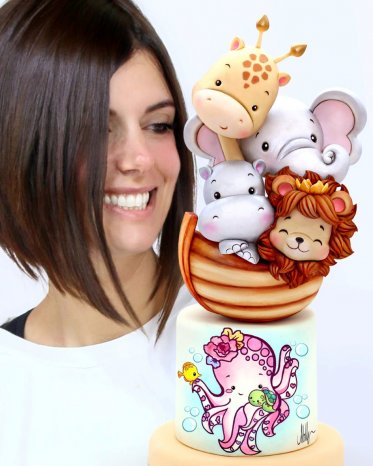 Molly Coppini is a Sugar Artist and International teacher specializing in the decoration and freehand modeling of Isomalt and Sugar Paste. Among various awards obtained in international competitions, she boasts 2 world titles won in Hong Kong in 2016. She has published 4 books; 1 in collaboration with Jasmine Beckert-Griffith (Disney illustrator), 1 with Charuca and 2 featuring just her work.
Molly has also worked on a series of DVDs which were released in all newsagents throughout Italy, she have taken part in many TV programs, until she became a cast member as Cake decorator at " La Prova del Cuoco", a program which is broadcasted in RAI1 (Italian National TV). To date she has about 1 million followers amongst her social channels, Facebook is top of the list with more than 500,000
SPONSORED BY

Animal TBC by Emma Jayne
Friday 4th November 2022 09.00 – 17.30hrs (8.5 hours)
This workshop piece will be an animal bust yet to be confirmed.
Skills taught: Sculpting, using modelling clay, hand painting with dusts, animal facial features
Price: £290.00
Coming from a background in fine art as a portrait artist, Emma Jayne Cake Design was founded in 2012. Emma Jayne soon discovered working with edible mediums was her passion.
Emma Jayne is a resident feature artist for Cake International, creating incredible features such as War Horse, "Iorek The Armoured Bear" and most recently Medusa.
Emma Jayne was awarded "Cake Hero" at 2019 Cake Masters Awards.
Cake International Terms & Conditions for Workshops
All reasonable steps will be taken to ensure our workshop areas are made safe.
All full day workshops include lunch and refreshments.
All materials and equipment required to create the piece advertised provided. You will be able to take home your finished piece (not the equipment supplied).
It might be necessary for some small items to be supplied by the student, a list will be sent to you before the workshop.
The student is responsible for their own travel costs to and from the workshop.
Please be aware that it is possible that the workshop may run over the expected finish time.
Due to such a high demand for places, the full payment is required upon booking.
Please be aware that once the full payment has been made, we are unable to refund so please double check travel arrangements before committing to a workshop.
Please inform us at the time of booking if you have any special dietary needs and/or allergies
Maximum number of students are stated in each class description.
All students must be 18 or older and are legally responsible for themselves and their actions whilst participating in the workshop.
In the unlikely event the workshop is cancelled by Cake International, you will receive a full refund. Cake International cannot be held responsible for any of your travel/accommodation costs.