As if the CI Carnival wasn't enough, we also have exclusive Masterclasses for those that just want more!! Exclusive online demos, held in private Facebook groups with a variety of techniques taught.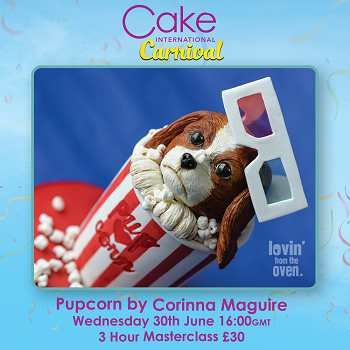 Corinna Maguire
Pupcorn
Create this cute King Charles puppy at a 3D movie in a bucket of popcorn – using techniques that can transfer to so many other cakes.
This is a real cake class that works with modelling chocolate while gaining techniques in texturising, stamping, masking and learn how to use gelatine too!

Wednesday 30th June, 16.00 GMT (3hours)
£30.00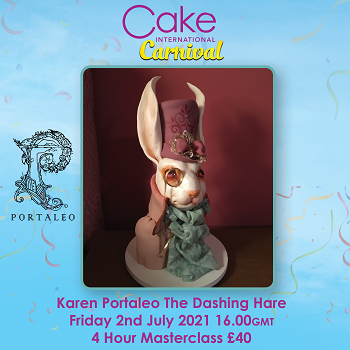 Karen Portaleo
The Dashing Hare
In this live class, Karen will be demonstrating a simple armature, sculpting with modeling chocolate, making clothing with fondant, making ruffles with Flexique and wafer paper, pouring a monocle out of isomalt and painting on modeling chocolate with Edible Artists' Oil Paints.

Friday 2nd July, 16.00 GMT
(4 hours)
£40.00