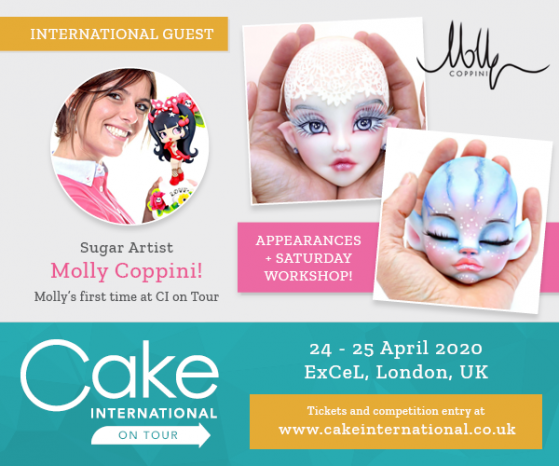 Molly Coppini is an international Sugar Artist specialising in Isomalt modelling and sugarpaste (all handmade).
Molly was born in Rome, Italy, and as a child was fascinated by the art world. She studied as a Master of Art, which started her down a path of experimenting with and distorting the manufacturing techniques in Decorative Pastry.
Since 2010 she has taught all over the world – sharing her love of creative sugarcraft.
Molly has received awards in competitions all over the world, including two gold medals in Hong Kong 2016, and loves the chance to challenge and a chance to subvert techniques with her own twists and kawaii style.
"In 2010, nobody knew me. I started from scratch like everybody else. My only goal was to spread the rule that in art there are no rules. Always keep your objective in mind – then the distance to reach it will be closer".
"Competitions are important for your professional growth. Never ask yourself what people will think – just have the courage to show them what you can do. I have failed many times, but even if you come last you have achieved something, and those who support you will celebrate with you. It took me a long time to understand that just being free to create in our 'sweet world' is the true victory".
Molly has worked on four books, two in collaboration with Disney Illustrators. She is a decorator on La Prova del Cuoco on Rai1 TV.