Published June 2020, to be revised monthly. Updated August 2020.
Measures and advise may be altered at any time without notice due to the fluid nature of the pandemic.
We have been working closely with the venue in anticipation of welcoming our exhibitors and visitors to the Cake International.

It is essential that certain measures will be put into place and we will also require the support and co-operation from our exhibitors.
You will find the most up to date Covid-19 measures document available to view as well as a template risk assessment which is a requirement for all exhibiting companies and must be submitted prior to attending.
We must work together to create a safe and manageable environment, and adhering to the guidelines is imperative to enable our events to go ahead.
LATEST SAFETY MEASURES FOR CAKE INTERNATIONAL – 28/07/2020
Following the news that events can recommence from 1st October we have been working hard to ensure that it is safe for all attendees at Cake International.
What safety measure are ICHF Events putting in place?
Our onsite team will complete Covid safety training before each event.
Visitors will be asked to keep left when walking down the aisles, relevant signage will be placed around the show.
Aisles will be wider.
Workshops and theatres will be redesigned in line with social distancing rules.
Additional onsite arrangements will be in place for 'spotters' to manage pitch points.
A deep cleaning routine will be agreed with each venue, high contact points such as theatres and workshops will be cleaned after each session.
Hand sanitiser units will be positioned outside the hall and around the show.
To maximise our visitors numbers whilst still following crowd density rules we will now only offer half day tickets, pre-bookable in advance. VIPs will still be allowed to visit the show throughout the day
What are the Covid safety rules for exhibitors?
A Covid specific risk assessment must be completed before each event.
Masks/visors are mandatory.
Exhibitors will be responsible for cleaning high contact points on their stand throughout the day.
Exhibitors must supply their staff with hand sanitiser and appropriate PPE.
Exhibitor will be responsible for designing their stands in line with social distancing rules, we suggest creating a one way system.
Make and takes will not be permitted due to social distancing rules.
A selection of demonstrations will be allowed, the sales team will be in contact to allocate demo space to those selected.
How will ICHF instill visitor confidence?​​​​​​​
We have added a new section to our website titled 'Keeping you safe', this details all our visitor specific covid safety changes.
Visitors will be emailed before the event with the health and hygiene guidelines and a detailed floorplan highlighting hand washing stations.
Please visit our covid advice section on the exhibitors zone for more information, please note measures and advise may be altered at any time without notice due to the fluid nature of the pandemic.
We are working hard to make the relevant changes to our events, more information with follow over the coming weeks.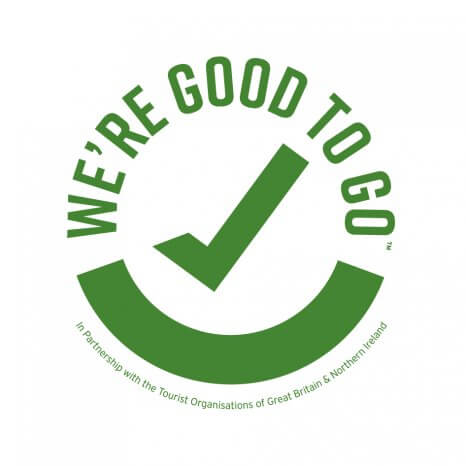 We are proud to be awarded the 'We're Good To Go' certificate – the UK's official mark to signal that a tourism and hospitality business has worked hard to follow Government and industry COVID-19 guidelines.