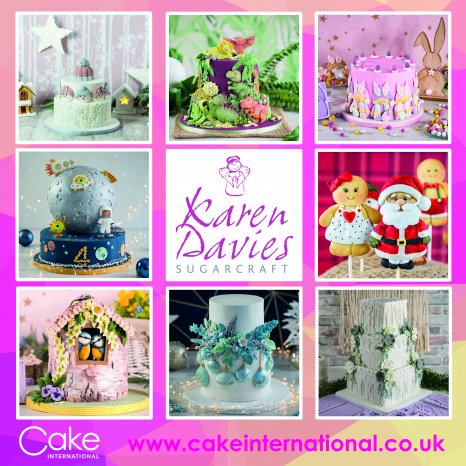 We are so pleased to be welcoming Karen Davies Sugarcraft to CI at the NEC in November.
Visit their stand to see a stunning display of over 50 cakes and cookies, showcasing the marvelous results you get from the moulds.
EVERYTHING on display is made from a mould that will be available to purchase so you can create your own creations at home!
Karen will be demonstrating how to use the moulds throughout the day so be sure to stop by and ask any questions you may have!
Karen Davies Sugarcraft have been designing and manufacturing moulds for nearly 14 years now! Cake artist Karen Davies and her daughter Alice design and model everything by hand which means their products produce stunning, handmade outcomes like no other.
The company has over 120 moulds ranging from flowers, figures, Christmas, Knit, Crochet, Rustic, Large Borders and more!
To see all of their products and fantastic cake designs go to their website www.karendaviessugarcraft.co.uk