Cake International request the pleasure of your company to witness the union of a spectacular team of cake artists from around the world and Ian Stuart Bridal as they proudly present to you…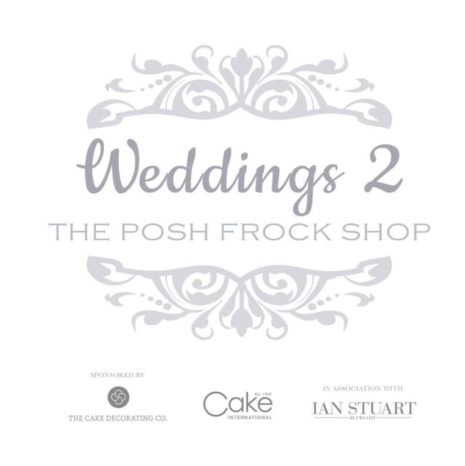 Supported by
"This November, step inside The Posh Frock Shop as we proudly open our sugar version of the iconic Ian Stuart London Boutique – Blewcoat.
Drawing inspiration from the work of Ian Stuart; from his breath-taking wedding collections or his divine occasion and evening wear, right down to the grandeur of Posh Frocks the TV show itself. Beautiful sugar models, intricate sugar floral displays and jaw dropping wedding cakes are just some of the elegant works guaranteed to leave you speechless.
It is with absolute honour that we extend our gratitude to Ian Stuart for granting permission to allow this most incredible collaboration to take place and extend that gratitude to our amazing team of sponsors and Cake International, without whom none of this would be possible".
Thank you,
Mish & The Team x
With Alan Morley Davis – Angie Harris – Barbara Luraschi – Ben Fullard – Bobbie Anne Hutchinson – Calli Hopper – Charlotte Crews –
Christine Jensen – Claire Anderson – Daniel Dieguez – Dawn Welton – Dot Klerk – Emily Hankins – Emma Jaye – Faye Cahill –
Gerry Cheng-Chiu – Jacqui Kelly – Dominique Pickering – Janette Macpherson – Jen Rojas – Karen Davis –
Karen Keaney – Kay Gajra – Lara Mason – Laura Lane – Lou Cross –
Lynsey Wilton-Eddleston – Melanie Williamson – Michael Lewis Anderson – Mish Pattinson – Natalie Porter –
Rhianydd Webb – Rhu Strand – Stephanie Would – Suzanne Esper – Suzanne Roberts – Suzanne Thorp –
Valerie & Christina – Vicki Smith – Zoe Clark – Zoe Hopkinson
Suppliers: The Cake Decorating Company – Evil Cake Genius – Bramble Sky – Sugar Press –
Prop Options – Taylored Elegance – Lorna Boyer Stationary – Motion Mapping